Volunteering in Bali with FNPF on Nusa Penida island is a fun way to learn about conservation and community development, og en god måde at møde traditionel balinesisk samfund på en smuk ø. As Nusa Penida is only a 45-minute boat trip away from Bali, you can combine a holiday in Bali with the experience of volunteering with FNPF on Nusa Penida. Vi glæder os over enkeltpersoner, par eller større grupper.
Bemærk venligst, at vi ikke er en kommerciel drift. Alle indtægter fra gæster er "donationer" og 100% af pengene bliver brugt til at finansiere FNPF projektarbejde. Ved at bo hos os, du kommer til at bo i et unikt miljø, deltage i bevarelse og lokalt udviklingsarbejde, og tilvejebringe midler, der hjælper FNPF at fortsætte sit arbejde.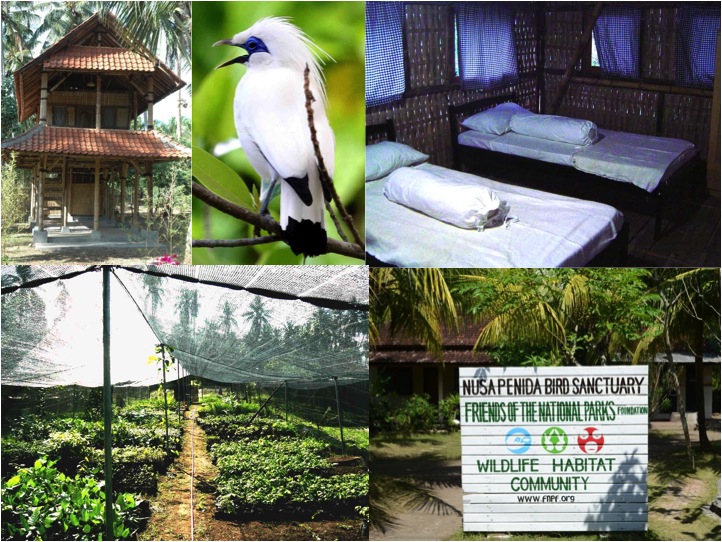 Læs om os på Trip Advisor
FNPF Visitor Centre og Guest House, Nusa Penida, Bali
Klik her to watch a Youtube video of volunteering with FNPF on Nusa Penida.
Klik her at læse Jetstar Magazine's artikel om journalist Claire Dunns erfaring som FNPF frivillig på Nusa Penida.
Klik her to see a Youtube video of a recent release of Bali Starlings on Nusa Penida
Klik her to read lots of articles written about Nusa Penida
Om Nusa Penido, Bali
Nusa Penida is a small, beautiful, and unspoilt island, and has stunning beaches, fantastiske koralrev, Rocky Hill terræn, sheer cliffs. Traditional Balinese village culture (landbrug, tangproduktion, traditionelle ikat vævning, and religious activities) has been maintained, untouched by tourism. Very few western tourists visit Nusa Penida. You won't find hotels, barer eller restauranter i denne ø.
Om FNPF og Nusa Penida Bird Sanctuary
FNPF har kørt sin bevarelse og udvikling af lokalsamfundet projekter på Nusa Penida siden 2004, with a focus on wildlife. Rebuilding populations of endangered Indonesian bird species, herunder Bali's emblem fugl, Bali Stær (Leucopsar rothschildi, også kendt som Rothschilds Mynah, Bali Mynah, og Jalak Bali), has been one of FNPF's main activities.
Ved at motivere og mobilisere lokalsamfundene beskyttelse af fugle fra alle landsbyer på øen, FNPF has transformed the whole island of Nusa Penida into a unique bird sanctuary where endangered birds can be released by FNPF to live and breed safely in the wild. Alle 41 villages have passed a local Balinese village regulation making it a social obligation for residents to protect birds from poachers and bird traders. Elsewhere in Indonesia, bird poachers remain the greatest threat to endangered birds.
Vi arbejder nu med udvalgte landsbyer om at udvide dette samfund baseret beskyttelse af vilde dyr til at omfatte havskildpadder. One village has agreed to work with FNPF to monitor and protect the turtles, og genplante mangrove træerne. We will construct a monitoring post and potentially start a turtle hatchery similar to the one we run in Kalimantan.
Til gengæld for de lokalsamfundsbaserede beskyttelse af dyrelivet, FNPF sponsorer børnene at gå i skole og universitet; kører et community bibliotek; midler traditionelle dans klasser; lærer bæredygtigt landbrug; grows and freely distributes tree saplings for villages to generate future income from agro-forestry; and plants trees on degraded land to restore forests. Education and economic improvements that are in harmony with the environment enable the local communities to improve their well-being and participation in conservation. The restoration of forests reduces soil erosion, increases rainfall and provides economic benefit to residents and a habitat for birds.
Introduktion til Nusa Penida og få rundt på Nusa Penida
Når du ankommer til Bali, catch a local boat from Sanur or Padangbai to Nusa Penida. For flere detaljer, Se vores FAQ-side.
What can you do?
Volunteers participate in general volunteering activities, and project specific activities (se nedenfor).
General Frivilligt
Volunteers don't need experience in the fields of sustainable development, organic farming or community empowerment, just a willingness to help and a passion for the work that we do.
Volunteers will have the opportunity to work with the FNPF staff in a variety of activities, herunder:
Bistå i børnehaven (fylde polybags med jord, plantefrø og planteforædlingsmateriale, lugning)
Plant og overvåge status for træ træer på FNPF's genplantning sites
Plant træer langs veje til at skabe korridorer af træer over hele øen
Byg brandbælter på skovrejsning steder for at beskytte træet træer

Work in our demonstration organic gardens

Monitor & tæller status af træer på skovrejsning stedet
GPS kortlægning af forskellige steder på øen
Undervis tales engelsk på lokale skoler til børn (

dependent on local school schedules

)
Undervis tales engelsk på vores center til lokale voksne, som ønsker at øge deres beskæftigelsesmuligheder i turistsektoren

Participate in conservation

& bæredygtige landbrugsmetoder til lokale landmænd

Provide art and english classes to local children at our centre

Generel vedligeholdelse på FNPF centret
Overvåge de forskellige arter af truede fugle, FNPF har rehabiliteret og frigivet
Overvåge andre vilde dyr (skildpadder, sommerfugle, flagermus)

The design and creation of marketing

/ uddannelse brochurer og plakater, der beskriver FNPFs arbejde, til fremvisning på Nusa Penida centret og kontoret i Ubud.

Writing grant proposals to raise funds

.
The type of activities that are offered by FNPF depend on the time of the year (we plant during the wet season), the amount of time available to plan your activities (teaching schedule in local schools need to be agreed in advance with the teachers), og dine specifikke færdigheder og interesser. Vores mål er, at du kan hjælpe os, whilst also ensuring that you have an enjoyable and interesting experience on Nusa Penida. You will also have enough spare time to enjoy the island. The island is large, so it is best to rent a motorcycle. Vi har også nogle cykler til din rådighed.
Videnskabelig Forskning
Please contact us via email if you are looking to do more formal scientific research.
For more information, please klik her.
A volunteer's schedule
Generelt, we would like volunteers to work with our staff during the mornings and then use their  free time to enjoy the island. Vi opfordrer dig til at besøge de mange landsbyer på øen, because this is an important way of showing the local population that FNPF is bringing tourists to Nusa Penida. Volunteers generally work for 3 – 4 hours a day on the afore-mentioned activities.
In addition, we invite locals to come to the FNPF Centre in the evenings to practice their spoken English and we request that volunteers are available to provide conversational English classes.
Lastly, we welcome any specialist skills that can help our work. According to the availability of volunteers with specific skills, we can organize specific events, such as music and yoga classes for the local youth.
Overall, we ask for a pro-active attitude and we are seeking volunteers who want to participate and who are willing to find ways to help. Note that our staff-members are locals from Nusa Penida. They will often be too intimidated to ask a western volunteer to do work. Therefore, it is partly up to you to pro-actively ask them what you can do to help.
Conditions
Du skal være 18 år eller derover (

unless accompanied by a parent or supervisory adults

)

You must be in reasonable physical condition

,

and prepared for hands-on manual work in a hot equatorial environment

You are responsible for your own vaccinations and should optionally bring anti-malarial prophylactics and medications

,

as well as creams/lotion for protection from mosquitoes and sun

You must bring a copy of your passport
Overnatning
Volunteers will stay at the FNPF's Centre, which is positioned on 1 Hektar (ca 2 hektar) of land, also harboring our nursery, our organic vegetable garden, our bird rehabilitation facility, the office and our community library. separated by a road from a beach with superb coral. In this setting, you will be woken up by cockerels at sunrise, occasionally spot pigs and cows wandering around the terrain, and see the highly endangered Bali Starlings settling in the trees every afternoon. You can also go snorkeling and see the superb Balinese coral reefs, or lay down at the beach, which is located just across the road from the FNPF Centre.
We have very simple but comfortable, clean rooms available for individuals and groups. Vi har i øjeblikket 4 dobbeltværelser, 1 alrum (dobbeltseng med 2 køjesenge) og en fælles sovesal med 4 separate senge. All beds have clean bedding (ark, pillows and bedcover), myggenet, og værelser har en elektrisk ventilator (ingen air-con). We have a mix of western and Asian toilets, and both indoor and outdoor showers. Der er ingen varmt vand, men bare rolig, vejret er altid varmt (eller varme)!
Prices
A daily donation is needed to cover your costs and to contribute to running the FNPF facilities and projects. (See table below).
The volunteer program will bring you an enjoyable and unique experience, and provides FNPF with a small contribution to fund our projects.
Se tabellen nederst på denne side for at beregne omkostningerne ved frivilligt arbejde med FNPF på Nusa Penida. Note that FNPF can provide discounted accommodation for volunteers wishing to do scientific research. See below for the table of prices, or Klik her for at downloade it.
Frivillige skal dække alle personlige rejseudgifter til og fra Nusa Penida, og deres egen daglige mad omkostninger. Vi giver ikke mad, fordi vi ikke har personale til at imødekomme, and also because we prefer visitors to support the local warungs (local restaurants) and shops on the island. There are several very good warungs close to FNPF's Centre, where the average cost of a meal is approx Rp 10,000 – 20,000 (ca AUD $ 1 – $2). You can also purchase fresh fish from the local fishermen and have a barbecue at the Centre. Clean bottled drinking water is available for free at the FNPF Centre.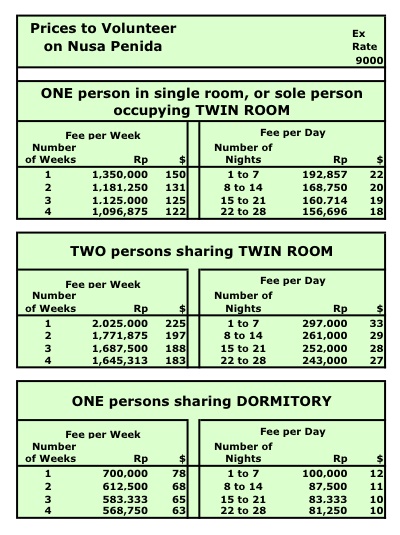 How to apply?
Please KLIK her for at ansøge og send ansøgningsskemaet til info@fnpf.org.
We will review your request and once we have processed your application, Vi vil sende dig en e-mail, der bekræfter tilgængelighed. For at sikre din placering, you will be asked to pay a deposit of 50% to secure your place and 100% payment one week before arrival. Bemærk venligst at vi ikke kan sikre sig en plads uden indskud (vi modtager mange anmodninger om at frivillige fra folk, der ændrer deres planer). For at betale dit indskud, please click the DONATE button.