Volunteering in Bali with FNPF on Nusa Penida island is a fun way to learn about conservation and community development, und eine gute Möglichkeit, traditionelle balinesische Gemeinden auf einer wunderschönen Insel treffen. As Nusa Penida is only a 45-minute boat trip away from Bali, you can combine a holiday in Bali with the experience of volunteering with FNPF on Nusa Penida. Wir freuen uns auf Individualreisende, Paare oder größere Gruppen.
Bitte beachten Sie, dass wir nicht einen kommerziellen Betrieb. Alle Erlöse aus Gäste sind "Spenden" und 100% das Geld wird verwendet, um FNPF das Projekt zu finanzieren,. Durch den Aufenthalt bei uns, Sie lernen in einer einzigartigen Umgebung zu bleiben, Teilnahme bei der Erhaltung und Entwicklung der Gemeinschaft arbeiten, und bieten Fonds, die FNPF helfen, seine Arbeit fortzusetzen.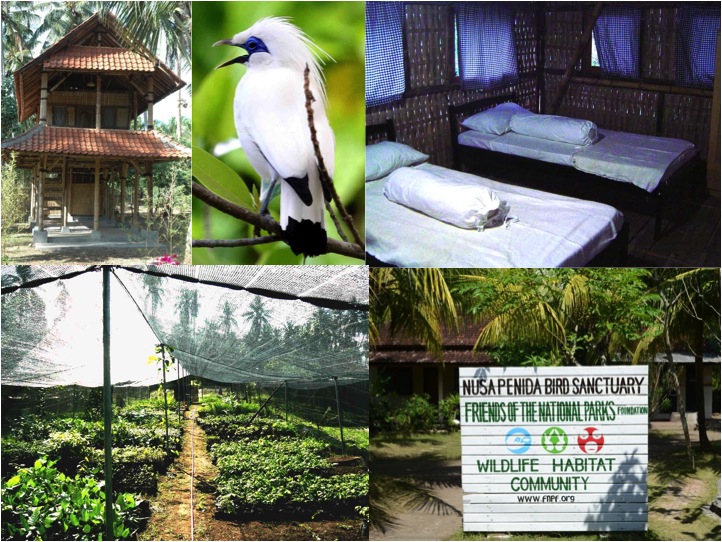 Lesen Sie mehr über uns auf Trip Advisor
FNPF Besucherzentrum und Gästehaus, Nusa Penida, Bali
Klicken Sie hier to watch a Youtube video of volunteering with FNPF on Nusa Penida.
Klicken Sie hier der Jetstar-Magazin Artikel über Journalistin Claire Dunn's Erfahrung als Freiwilliger FNPF auf Nusa Penida lesen.
Klicken Sie hier to see a Youtube video of a recent release of Bali Starlings on Nusa Penida
Klicken Sie hier to read lots of articles written about Nusa Penida
Über Nusa Penido, Bali
Nusa Penida is a small, beautiful, and unspoilt island, and has stunning beaches, erstaunliche Korallenriffe, felsigen Hügel Gelände, sheer cliffs. Traditional Balinese village culture (Landwirtschaft, Algenproduktion, traditionellen Ikat Weberei, and religious activities) has been maintained, untouched by tourism. Very few western tourists visit Nusa Penida. You won't find hotels, Bars oder Restaurants auf dieser Insel.
Über FNPF und Nusa Penida Bird Sanctuary
FNPF betreibt seit ihrer Erhaltung und Entwicklung der Gemeinschaft Projekte auf Nusa Penida seit 2004, with a focus on wildlife. Rebuilding populations of endangered Indonesian bird species, einschließlich Balis Emblem Vogel, der Bali Starling (Leucopsar rothschildi, auch als Rothschild Mynah bekannt, Bali Mynah, und Jalak Bali), has been one of FNPF's main activities.
Durch Motivation und Mobilisierung der Community-basierte Schutz von Vögeln aus allen Dörfern der Insel, FNPF has transformed the whole island of Nusa Penida into a unique bird sanctuary where endangered birds can be released by FNPF to live and breed safely in the wild. Alle 41 villages have passed a local Balinese village regulation making it a social obligation for residents to protect birds from poachers and bird traders. Elsewhere in Indonesia, bird poachers remain the greatest threat to endangered birds.
Wir arbeiten jetzt mit ausgewählten Dörfern zu diesem Community-basierte Schutz der Tierwelt zu erweitern, um Meeresschildkröten gehören. One village has agreed to work with FNPF to monitor and protect the turtles, und bepflanzen die Mangroven. We will construct a monitoring post and potentially start a turtle hatchery similar to the one we run in Kalimantan.
Im Gegenzug für die Community-basierte Schutz von Wildtieren, FNPF Sponsoren Kinder zur Schule und Universität zu besuchen; unterhält eine Community-Bibliothek; Mittel traditionellen Tanz Klassen; lehrt eine nachhaltige Landwirtschaft; wächst und frei verteilt Baumverjüngung für Dörfer, die künftige Erträge aus der Agro-Forstwirtschaft zu generieren; and plants trees on degraded land to restore forests. Education and economic improvements that are in harmony with the environment enable the local communities to improve their well-being and participation in conservation. The restoration of forests reduces soil erosion, increases rainfall and provides economic benefit to residents and a habitat for birds.
Anreise nach Nusa Penida und Fortbewegung auf Nusa Penida
Nach Ihrer Ankunft in Bali, catch a local boat from Sanur or Padangbai to Nusa Penida. Für mehr Details, siehe unsere FAQ-Seite.
What can you do?
Volunteers participate in general volunteering activities, and project specific activities (siehe unten).
Allgemeine Freiwilligenarbeit
Volunteers don't need experience in the fields of sustainable development, organic farming or community empowerment, nur die Bereitschaft zu helfen und eine Leidenschaft für die Arbeit, die wir tun.
Volunteers will have the opportunity to work with the FNPF staff in a variety of activities, einschließlich:
Assist in der Baumschule (füllen Polybeutel mit Erde, Pflanzensamen und Pflanzgut, Jäten)
Plant und überwacht den Status von Setzlingen auf FNPF's Wiederaufforstung Websites
Setzlingen entlang Straßen zu Baumkorridore quer über die Insel zu schaffen
Build Feuer bricht auf Wiederaufforstung Sites zum Schutz der Setzlingen

Work in our demonstration organic gardens

Monitor & Anzahl der Status der Setzlinge auf der Wiederaufforstung vor Ort
GPS-Mapping von verschiedenen Orten auf der Insel
Teach gesprochenes Englisch an Schulen für Kinder (

dependent on local school schedules

)
Teach gesprochenes Englisch in unserem Zentrum zu lokalen Erwachsenen, die Beschäftigungsmöglichkeiten im Tourismus steigern möchten

Participate in conservation

& nachhaltige Anbaumethoden an lokale Landwirte

Provide art and english classes to local children at our centre

Allgemeine Wartung am FNPF Centre
Überwachen Sie die verschiedenen Arten der gefährdeten Vögel, die FNPF saniert und freigegeben hat
Monitor andere Wildtiere (Schildkröten, Schmetterlinge, Fledermäuse)

The design and creation of marketing

/ Bildung Broschüren und Poster beschreibt FNPFs Arbeit, für die Anzeige am Nusa Penida Centre und das Büro in Ubud.

Writing grant proposals to raise funds

.
The type of activities that are offered by FNPF depend on the time of the year (we plant during the wet season), the amount of time available to plan your activities (teaching schedule in local schools need to be agreed in advance with the teachers), und Ihre besonderen Fähigkeiten und Interessen. Unser Ziel ist es für Sie, uns zu helfen, whilst also ensuring that you have an enjoyable and interesting experience on Nusa Penida. You will also have enough spare time to enjoy the island. The island is large, so it is best to rent a motorcycle. Wir haben auch einige Fahrräder stehen für Sie bereit.
Wissenschaftliche Forschung
Please contact us via email if you are looking to do more formal scientific research.
For more information, please Klicken Sie hier.
A volunteer's schedule
Im Allgemeinen, we would like volunteers to work with our staff during the mornings and then use their  free time to enjoy the island. Wir empfehlen Ihnen, die vielen Dörfer auf der Insel besuchen, because this is an important way of showing the local population that FNPF is bringing tourists to Nusa Penida. Volunteers generally work for 3 – 4 hours a day on the afore-mentioned activities.
In addition, we invite locals to come to the FNPF Centre in the evenings to practice their spoken English and we request that volunteers are available to provide conversational English classes.
Lastly, we welcome any specialist skills that can help our work. According to the availability of volunteers with specific skills, we can organize specific events, such as music and yoga classes for the local youth.
Overall, we ask for a pro-active attitude and we are seeking volunteers who want to participate and who are willing to find ways to help. Note that our staff-members are locals from Nusa Penida. They will often be too intimidated to ask a western volunteer to do work. Therefore, it is partly up to you to pro-actively ask them what you can do to help.
Conditions
Sie müssen 18 Jahren oder darüber (

unless accompanied by a parent or supervisory adults

)

You must be in reasonable physical condition

,

and prepared for hands-on manual work in a hot equatorial environment

You are responsible for your own vaccinations and should optionally bring anti-malarial prophylactics and medications

,

as well as creams/lotion for protection from mosquitoes and sun

You must bring a copy of your passport
Unterkunft
Volunteers will stay at the FNPF's Centre, which is positioned on 1 Ha (ca. 2 ha) of land, also harboring our nursery, our organic vegetable garden, our bird rehabilitation facility, the office and our community library. separated by a road from a beach with superb coral. In this setting, you will be woken up by cockerels at sunrise, occasionally spot pigs and cows wandering around the terrain, and see the highly endangered Bali Starlings settling in the trees every afternoon. You can also go snorkeling and see the superb Balinese coral reefs, or lay down at the beach, which is located just across the road from the FNPF Centre.
We have very simple but comfortable, clean rooms available for individuals and groups. Wir haben derzeit 4 Zweibettzimmer, 1 Familienzimmer (Doppelbett mit 2 Etagenbett) und einem gemeinsamen Schlafsaal mit 4 getrennten Betten. All beds have clean bedding (Blätter, pillows and bedcover), Moskitonetze, und verfügen über einen elektrischen Ventilator (keine Klimaanlage). We have a mix of western and Asian toilets, and both indoor and outdoor showers. Es gibt kein warmes Wasser, aber keine Angst, das Wetter ist immer warm (oder heißen)!
Prices
A daily donation is needed to cover your costs and to contribute to running the FNPF facilities and projects. (See table below).
The volunteer program will bring you an enjoyable and unique experience, and provides FNPF with a small contribution to fund our projects.
Bitte beachten Sie die Tabelle am Ende dieser Seite, um die Kosten der Freiwilligenarbeit mit FNPF auf Nusa Penida berechnen. Note that FNPF can provide discounted accommodation for volunteers wishing to do scientific research. See below for the table of prices, oderKlicken Sie hier zum Download it.
Freiwillige müssen alle persönlichen Reisekosten von und nach Nusa Penida Abdeckung, und ihre tägliche Nahrung Kosten. Wir bieten keine Nahrung, weil wir nicht über das Personal zu sorgen, and also because we prefer visitors to support the local warungs (local restaurants) and shops on the island. There are several very good warungs close to FNPF's Centre, where the average cost of a meal is approx Rp 10,000 – 20,000 (ca. AUD $ 1 – $2). You can also purchase fresh fish from the local fishermen and have a barbecue at the Centre. Clean bottled drinking water is available for free at the FNPF Centre.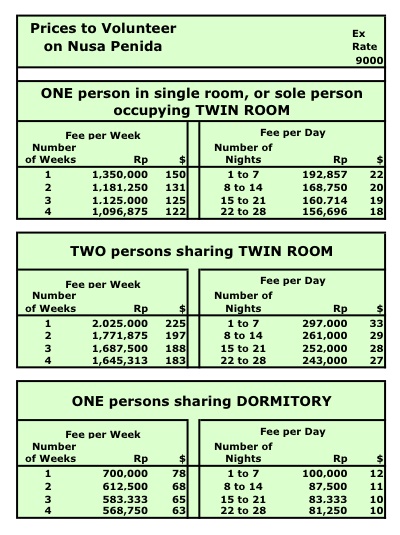 How to apply?
Bitte KLICKEN SIE HIER BEI DER BEWERBUNG und schicken Sie das Antragsformular auf info@fnpf.org.
We will review your request and once we have processed your application, senden wir Ihnen eine E-Mail bestätigen Verfügbarkeit. So sichern Sie Ihre Platzierung, you will be asked to pay a deposit of 50% to secure your place and 100% payment one week before arrival. Bitte beachten Sie, dass wir nicht sicher ein Ort ohne Anzahlung (Wir erhalten viele Anfragen von Menschen, die ihre Pläne zu ändern Freiwilligen). Zur Bezahlung Ihrer Einzahlung, please click the DONATE button.