If you are  looking for an inherent understanding of local Indonesian communities, Kultur, Spiritualität, die Bedrohungen für die erstaunliche Tier-und Pflanzenwelt, and to experience the work of a small, local, front-line conservation and community development NGO, then you are the volunteer we are looking for. You will work closely with our staff and local communities and join a program that will benefit local inhabitants, wildlife and the habitat. Our program will give you a taste of what it is really like to live and work in a remote area, working for a small front-line conservation and community development organisation.
Bitte beachten Sie, dass wir nicht einen kommerziellen Betrieb. Alle Erlöse aus Gäste sind "Spenden" und 100% das Geld wird verwendet, um FNPF das Projekt zu finanzieren,. Durch den Aufenthalt bei uns, Sie lernen in einer einzigartigen Umgebung zu bleiben, Teilnahme bei der Erhaltung und Entwicklung der Gemeinschaft arbeiten, und bieten Fonds, die FNPF helfen, seine Arbeit fortzusetzen.
FNPF will place volunteers to work with our teams on one of our two project locations: Tanjung Putting-Nationalpark (TPNP) und Lamandau River Wildlife Reserve (LRWR).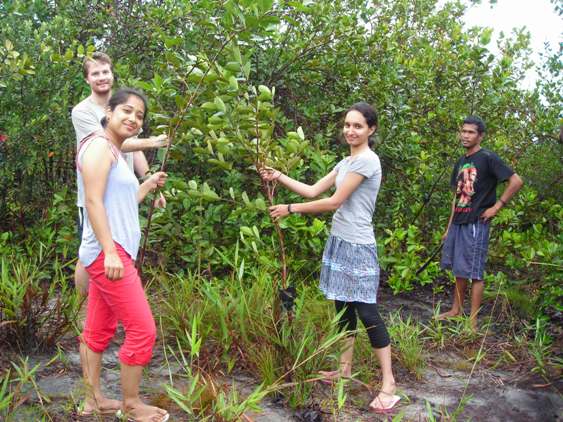 Volunteer projects in Tanjung Puting National Park

Community empowerment projects




Tanjung Harapan village

, auch als Sekonyer Dorf bekannt,

is located on the borders of Tanjung Puting National Park. Volunteers will stay with a family in the village

,

will be welcomed in the local primary schools to teach English and will help the FNPF environment education program

. Freiwillige werden mit den Einheimischen, wie die Einheimischen leben.
Von der Sekonyer Dorf,

volunteers travel to the FNPF re-forestation sites of Pesalat and Padang Sembilan

,

where you can take part in the FNPF re-forestation project

, Hilfe Anpflanzung von Bäumen, Pflege Setzlinge, Überwachung der Aufforstung vor Ort.

All this at a short distance from the Tanjung Puting orangutan release sites

,

which is surrounded by a stunning natural environment

. Sie werden nicht die Gelegenheit verpassen, der Kreuzfahrt entlang der Sekonyer Fluss-und Spot-Makaken, Nasenaffen, rotes Blatt Affen hornbills, Eisvögel, und wenn das Glück auch wilde Orang-Utans und Krokodile.

FNPF re-Aufforstungsprojekte


Pesalat

, befindet sich innerhalb des Tanjung Putting National Park,

is the first re-forestation site established by FNPF

.

Volunteers can experience the benefits of a successful re-forestation project

.
Freiwillige besuchen auch die Website der Aufforstung Nine Golf, nahe an

Beguruh

Aufforstung Ort an der Grenze mit dem Tanjung Putting National Park, wo Freiwillige die Nacht schlafen in Hängematten verbringen.
Mit rund 1.5

hours trek from the Sekonyer River you can find the FNPF self-sustainable farm of Jerumbun

.

Volunteers will spend the night at the farm

,

help with farming and also have the opportunity to see the effects of oil palm plantations

,

and the logging and mining in the surrounding forest

.

Long term volunteers




Our program is also appropriate for those considering a long term volunteer role in a remote location

(

Zentral-Kalimantan

oder anderswo in Indonesien).
Unterkunft
Accommodations will be a mixture of home stay with local families, Außendienstmitarbeiter Viertel und Hängematten in den Bäumen. Please realize that our project sites are in remote and tough environments,mit grundlegenden Unterkunft und Verpflegung, for authentic taste of the local way of life and jungle experience.  Adaptability to field conditions is required and a basic understanding of the local culture is advised
How to get to Central Kalimantan (Borneo)?
Pangkalan Bun is reachable…
Mit dem Flugzeug – direct flights from Jakarta and from the main Javanese cities Semarang and Surabaya are scheduled daily (duration of the flight is about 1,5h). There are also flights from other Indonesian cities. Bitte beachten Sie, dass einige Inlandsflüge in Indonesien, vor allem auf Kalimantan (Borneo) can only be booked from the airports, maximum 1 Monat vor Anreise. Please contact us on the following email address for assistance with your domestic flights booking: info.kalimantan @ fnpf.org
Once you have landed in Pangkalan Bun, Ihr Projekt Reiseleiter wird Sie und Ihre Kolleginnen und Freiwilligen, und führt Sie zu den FNPF Büro begleiten in der Stadt Kumai, 40 Minuten vom Flughafen.
Auf dem Seeweg – It is also possible to catch a ferry from Semarang or Surabaya directly to Kumai harbor (approximately 24 Uhr).
Volunteer projects at Lamandau River Wildlife Reserve
FNPF re-Aufforstungsprojekte
Kajang Beitrag, FNPF Aufforstung site,

will be a complete change of scenario

.

This project started in

2009,

and therefore

,

the land and forest regeneration process is still at the embryonic stage

. Während des Aufenthaltes im Pos Kajang, Freiwillige werden in Pflanzen beteiligt sein, Pflege Setzlinge, Kompostieren, sowie Hilfe bei der Kartierung der Gegend und die Erhebung von Daten auf dem lokalen Tier-und Pflanzenwelt. Volunteers wird erwartet, dass mit diesen täglichen Aktivitäten zu helfen, Hilfe und Anleitung wird immer verfügbar durch unseren Außendienst,

and of course by your tour guide. FNPF is also looking for volunteers willing to help with data collection and information recording

,

as well as the mapping of the reforestation area

. Camp Mitarbeiterführung und GPS wird zur Verfügung gestellt.

English classes




Volunteers will be involved in English lessons in the local school and English conversation with the locals in the village and with FNPF staff

.

Using your specific skills




FNPF is in need of skilled volunteers that can help to document the local wisdom and pass it on to the future generation.  To be a volunteer with FNPF

,

you do not need to have any specific skills other than being in general good physical health and enthusiasm to help us with our projects

,

but if you have any specific skills that you want us to be aware of

, mailen Sie uns bitte mit Details.

Examples are the organization of dance

,

music

,

and yoga classes for the local youth

.
Unterkunft
Accommodation and facilities are very basic. Freiwillige müssen auch bereit sein, Unterkunft teilen, Küche, Arbeitsmittel und persönlichen Raum mit anderen Freiwilligen und lokalen Mitarbeitern.
Important: volunteers will not handle orangutans
Bitte nicht bewerben, wenn Sie in der Hoffnung, Orang-Utans handhaben sind bei diesem Projekt.
In 2002 the Indonesian government introduced regulations which prevent orangutans that have been held in captivity from being released into areas containing wild orangutan populations (because of the risk of disease). Therefore, FNPF no longer runs a permanent orangutan rescue, Rehabilitation & Release Mitte. Stattdessen FNPF konzentriert sich auf die Wiederaufforstung auf native Orang-Utan Lebensraum in Tanjung Putting National Park und Lamandau Reserve Wiederaufbau, and to help local communities.
FNPF gelegentlich rettet wilde Orang-Utans aus der Nähe von Palmöl-Plantagen und verlegt sie in die Sicherheit des Parks oder reservieren. Allerdings, FNPF does not directly work with orangutans, as there is considerable controversy over the real purpose and benefit of orangutan rehabilitation facilities (sie haben sich lukrative touristischen Attraktionen und einige Orang-Utans erfolgreich freigegeben, um in der Wildnis überleben). Therefore, FNPF chooses to focus on reforestation projects to create habitat for wild and ex-captive orangutans (und andere Wildtiere). Wiederaufforstung hilft auch wieder die native Umgebung, reduziert die Bodenerosion und Sturzfluten, und Bekämpfung des Klimawandels. Wir verbinden diese mit dem Gemeinschaftsrecht Entwicklungsprojekte Nutzen für die lokale Bevölkerung schaffen (Bildung, Agro-Forstwirtschaft, Öko-Tourismus). Check our website to Patenschaft für ein Ha von Orang-Utan Lebensraum, Hilfe FNPF auf native Lebensraum Wald Wiederaufbau zu unterstützen und zu erhöhen Bevölkerung von Orang-Utan.
Volunteers that join FNPF's program will not have direct contact with orangutans. Allerdings, volunteers will accompany the local school children to the 3pm feeding station of Tanjung Harapan as part of FNPF education program, where volunteers are very likely to see wild orangutans. Nevertheless, volunteers who want to visit Camp Leakey can arrange a tour before or after the project with local travel agencies. FNPF Mitarbeiter gerne zur Freiwilligen, die helfen.
What must I bring to Borneo?
Indonesian Rupiah cash

, für Ihre persönlichen Ausgaben (möchten Sie vielleicht Souvenirs oder kalte Getränke kaufen)
2

photocopies of your passport to process police checks

, die übliche Praxis für Touristen in Indonesien

A photocopy of the Indonesian visa

.
Volunteer Kosten im Zusammenhang mit FNPF
The volunteer fees for 2012 are as follows:
Tanjung Putting-Nationalpark
1 week         (USD800)
2 weeks       (USD1,500)
3 weeks       (USD2,300)
Lamandau Reserve
1 week         (USD700)
2 weeks       (USD1,300)
3 weeks       (USD2,000)
What is included in your project fee?
How to apply?
Email us with your preferred dates and any question you might have. Please CLICK HERE TO DOWNLOAD das Antragsformular aus und senden Sie es aninfo@fnpf.org. Wir werden dann Ihre Anfrage prüfen und zu bestätigen, ob wir die Verfügbarkeit haben. So sichern Sie Ihre Platzierung, Sie werden dann aufgefordert, eine Anzahlung von zahlen 50%. Bitte beachten Sie, dass wir nicht sicher ein Ort ohne Anzahlung (Wir erhalten viele Anfragen von Menschen, die ihre Pläne zu ändern Freiwilligen).