If you are  looking for an inherent understanding of local Indonesian communities, culture, spiritualité, les menaces à la faune étonnante et de l'habitat, and to experience the work of a small, local, front-line conservation and community development NGO, then you are the volunteer we are looking for. You will work closely with our staff and local communities and join a program that will benefit local inhabitants, wildlife and the habitat. Our program will give you a taste of what it is really like to live and work in a remote area, working for a small front-line conservation and community development organisation.
S'il vous plaît noter que nous ne sommes pas une opération commerciale. Tous les profits de personnes sont des «dons» et de 100% de l'argent est utilisé pour financer des travaux du projet de FNPF. En restant avec nous, vous arrivez à rester dans un environnement unique, participer à des travaux de conservation et de développement communautaire, et fournir des fonds qui aident FNPF à poursuivre ses travaux.
FNPF will place volunteers to work with our teams on one of our two project locations: Mettre le parc national de Tanjung (TPNP) et Lamandau River Wildlife Reserve (LRWR).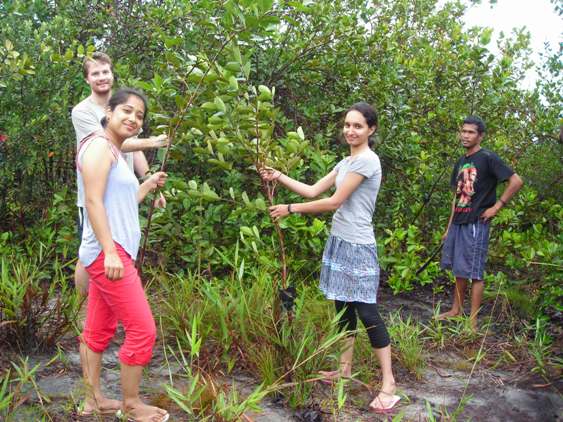 Volunteer projects in Tanjung Puting National Park

Community empowerment projects




Tanjung Harapan village

, également connu sous le nom Sekonyer village,

is located on the borders of Tanjung Puting National Park. Volunteers will stay with a family in the village

,

will be welcomed in the local primary schools to teach English and will help the FNPF environment education program

. Les bénévoles vivent avec les gens du pays que les habitants.
Du village Sekonyer,

volunteers travel to the FNPF re-forestation sites of Pesalat and Padang Sembilan

,

where you can take part in the FNPF re-forestation project

, aider à la plantation d'arbres, infirmiers gaules, surveillance du site de reforestation.

All this at a short distance from the Tanjung Puting orangutan release sites

,

which is surrounded by a stunning natural environment

. Vous ne manquez pas l'occasion d'une croisière le long du fleuve et les macaques Sekonyer spot, nasiques, rouges singes feuilles calaos, martins-pêcheurs, et si les orangs-outans chance aussi sauvage et les crocodiles.

FNPF projets de reboisement


Pesalat

, situé dans le parc national de Tanjung Puting,

is the first re-forestation site established by FNPF

.

Volunteers can experience the benefits of a successful re-forestation project

.
Des bénévoles seront également visiter le site de reboisement Neuf Golf, près de

Beguruh

reboisement du site sur les frontières avec le parc national de Tanjung Puting, où les bénévoles vont passer la nuit dans des hamacs de sommeil.
À environ 1.5

hours trek from the Sekonyer River you can find the FNPF self-sustainable farm of Jerumbun

.

Volunteers will spend the night at the farm

,

help with farming and also have the opportunity to see the effects of oil palm plantations

,

and the logging and mining in the surrounding forest

.

Long term volunteers




Our program is also appropriate for those considering a long term volunteer role in a remote location

(

Kalimantan central

ou ailleurs en Indonésie).
Hébergement
Accommodations will be a mixture of home stay with local families, quarts du personnel de terrain et des hamacs dans les arbres. Please realize that our project sites are in remote and tough environments,avec un hébergement de base et de la nourriture, for authentic taste of the local way of life and jungle experience.  Adaptability to field conditions is required and a basic understanding of the local culture is advised
Comment se rendre à Kalimantan central (Bornéo)?
Pangkalan Bun is reachable…
Par avion – direct flights from Jakarta and from the main Javanese cities Semarang and Surabaya are scheduled daily (duration of the flight is about 1,5h). There are also flights from other Indonesian cities. S'il vous plaît noter que certains vols intérieurs en Indonésie, en particulier à Kalimantan (Bornéo) can only be booked from the airports, maximum 1 mois avant l'arrivée. Please contact us on the following email address for assistance with your domestic flights booking: info.kalimantan @ fnpf.org
Once you have landed in Pangkalan Bun, votre guide de projet se rencontreront, vous et votre collègues bénévoles, et vous accompagnera au bureau FNPF dans la ville de Kumai, 40 minutes de l'aéroport.
Par la mer – It is also possible to catch a ferry from Semarang or Surabaya directly to Kumai harbor (approximately 24 h.).
Volunteer projects at Lamandau River Wildlife Reserve
FNPF projets de reboisement
Message Kajang, FNPF reboisement du site,

will be a complete change of scenario

.

This project started in

2009,

and therefore

,

the land and forest regeneration process is still at the embryonic stage

. Pendant votre séjour à Pos Kajang, volontaires seront impliqués dans la plantation, infirmiers gaules, fabrication de compost, ainsi que d'aider à la cartographie de la zone et de recueillir des données sur la faune locale et de l'habitat. Les bénévoles seront appelés à contribuer à ces activités quotidiennes, aide et les conseils seront toujours disponibles par notre personnel sur le terrain,

and of course by your tour guide. FNPF is also looking for volunteers willing to help with data collection and information recording

,

as well as the mapping of the reforestation area

. Le personnel du camp d'orientation et GPS sera fourni.

English classes




Volunteers will be involved in English lessons in the local school and English conversation with the locals in the village and with FNPF staff

.

Using your specific skills




FNPF is in need of skilled volunteers that can help to document the local wisdom and pass it on to the future generation.  To be a volunteer with FNPF

,

you do not need to have any specific skills other than being in general good physical health and enthusiasm to help us with our projects

,

but if you have any specific skills that you want us to be aware of

, S'il vous plaît nous envoyer un email avec les détails.

Examples are the organization of dance

,

music

,

and yoga classes for the local youth

.
Hébergement
Accommodation and facilities are very basic. Les bénévoles doivent être également prêts à partager leur logement, repas, outils de travail et un espace personnel avec d'autres bénévoles et le personnel local.
Important: volunteers will not handle orangutans
S'il vous plaît ne s'applique pas si vous êtes l'espoir de traiter les orangs-outans au cours de ce projet.
Dans 2002 the Indonesian government introduced regulations which prevent orangutans that have been held in captivity from being released into areas containing wild orangutan populations (because of the risk of disease). Therefore, FNPF no longer runs a permanent orangutan rescue, réadaptation & centre de libération. Instead FNPF focuses on reforestation to rebuild native orangutan habitat within Tanjung Puting National Park and Lamandau Reserve, and to help local communities.
FNPF sauvetages occasionnellement des orangs-outans sauvages à proximité des plantations de palmiers à huile et les replace dans la sécurité du parc ou de réserve. Cependant, FNPF does not directly work with orangutans, as there is considerable controversy over the real purpose and benefit of orangutan rehabilitation facilities (ils sont devenus des attractions touristiques lucratives et les orangs-outans sont relâchés avec succès quelques pour survivre à l'état sauvage). Therefore, FNPF chooses to focus on reforestation projects to create habitat for wild and ex-captive orangutans (et autres animaux sauvages). Reboisement permet également de restaurer l'environnement natif, réduit l'érosion des sols et des inondations soudaines, et combattre le changement climatique. Nous combinons ceci avec des projets de développement communautaire pour apporter un bénéfice aux communautés locales (l'éducation, agro-foresterie, le tourisme écologique). Check our website to Parrainer un hectare d'habitat Orangutan, Aide à la reconstruction de l'habitat FNPF forêt indigène pour soutenir et accroître la population de orang-outan.
Volunteers that join FNPF's program will not have direct contact with orangutans. Cependant, volunteers will accompany the local school children to the 3pm feeding station of Tanjung Harapan as part of FNPF education program, where volunteers are very likely to see wild orangutans. Nevertheless, volunteers who want to visit Camp Leakey can arrange a tour before or after the project with local travel agencies. FNPF personnel se fera un plaisir d'aider les bénévoles qui.
What must I bring to Borneo?
Indonesian Rupiah cash

, pour vos dépenses personnelles (vous pouvez acheter des souvenirs ou des boissons froides)
2

photocopies of your passport to process police checks

, qui est une pratique normale pour les touristes en Indonésie

A photocopy of the Indonesian visa

.
Coûts des bénévoles avec FNPF
The volunteer fees for 2012 are as follows:
Mettre le parc national de Tanjung
1 week         (USD800)
2 weeks       (USD1,500)
3 weeks       (USD2,300)
Lamandau réserve
1 week         (USD700)
2 weeks       (USD1,300)
3 weeks       (USD2,000)
Ce qui est inclus dans vos frais de projet?
How to apply?
Email us with your preferred dates and any question you might have. Please CLIQUEZ ICI POUR TELECHARGER le formulaire de demande et l'envoyer àinfo@fnpf.org. Nous examinerons ensuite votre demande et confirmer si nous avons la disponibilité. Pour sécuriser votre placement, vous serez alors invité à payer une caution de 50%. S'il vous plaît noter que nous ne pouvons pas garantir une place sans dépôt (nous recevons beaucoup de demandes de bénévolat de personnes qui changer leurs plans).