If you are  looking for an inherent understanding of local Indonesian communities, Cultuur, geestelijkheid, de bedreigingen naar de prachtige natuur en habitat, and to experience the work of a small, local, front-line conservation and community development NGO, then you are the volunteer we are looking for. You will work closely with our staff and local communities and join a program that will benefit local inhabitants, wildlife and the habitat. Our program will give you a taste of what it is really like to live and work in a remote area, working for a small front-line conservation and community development organisation.
Houdt u er rekening mee dat we niet een commerciële exploitatie. Alle opbrengsten van gasten zijn "giften" en 100% van het geld wordt gebruikt om de FNPF het project te financieren. Door verblijf bij ons, krijg je voor een verblijf in een unieke omgeving, deel te nemen aan de instandhouding en ontwikkeling van de gemeenschap te werken, en zorgen voor fondsen die helpen FNPF om zijn werk voort te zetten.
FNPF will place volunteers to work with our teams on one of our two project locations: Tanjung Putting Nationaal Park (TPNP) en Lamandau River Wildlife Reserve (LRWR).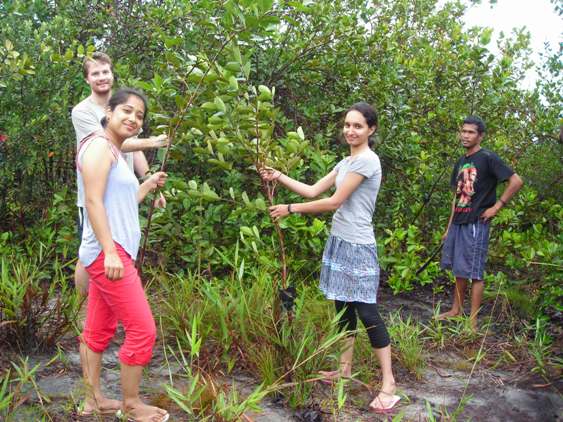 Volunteer projects in Tanjung Puting National Park

Community empowerment projects




Tanjung Harapan village

, ook wel bekend als Sekonyer dorp,

is located on the borders of Tanjung Puting National Park. Volunteers will stay with a family in the village

,

will be welcomed in the local primary schools to teach English and will help the FNPF environment education program

. Vrijwilligers zullen leven met de lokale bevolking als de lokale bevolking.
Van de Sekonyer Village,

volunteers travel to the FNPF re-forestation sites of Pesalat and Padang Sembilan

,

where you can take part in the FNPF re-forestation project

, helpen bij het planten van bomen, verpleging jonge boompjes, het toezicht op de herbebossing website.

All this at a short distance from the Tanjung Puting orangutan release sites

,

which is surrounded by a stunning natural environment

. U zult niet missen in de gelegenheid van cruisen langs de rivier en Sekonyer spot makaken, neusapen, red leaf monkeys neushoornvogels, ijsvogels, en als het geluk ook wilde orang-oetans en krokodillen.

FNPF herbebossing projecten


Pesalat

, gelegen binnen de Tanjung Putting National Park,

is the first re-forestation site established by FNPF

.

Volunteers can experience the benefits of a successful re-forestation project

.
Vrijwilligers zullen ook een bezoek aan de site van herbebossing Nine Golf, dicht bij de

Beguruh

herbebossing plaats op de grens met de Tanjung Putting National Park, waar de vrijwilligers zullen de nacht doorbrengen slapen in hangmatten.
Op ongeveer 1.5

hours trek from the Sekonyer River you can find the FNPF self-sustainable farm of Jerumbun

.

Volunteers will spend the night at the farm

,

help with farming and also have the opportunity to see the effects of oil palm plantations

,

and the logging and mining in the surrounding forest

.

Long term volunteers




Our program is also appropriate for those considering a long term volunteer role in a remote location

(

Centraal Kalimantan

of elders in Indonesië).
Accommodatie
Accommodations will be a mixture of home stay with local families, medewerkers in het veld vieren en hangmatten in de bomen. Please realize that our project sites are in remote and tough environments,met eenvoudige accommodatie en voedsel, for authentic taste of the local way of life and jungle experience.  Adaptability to field conditions is required and a basic understanding of the local culture is advised
Hoe je naar Centraal-Kalimantan (Borneo)?
Pangkalan Bun is reachable…
Met het vliegtuig – direct flights from Jakarta and from the main Javanese cities Semarang and Surabaya are scheduled daily (duration of the flight is about 1,5h). There are also flights from other Indonesian cities. Houdt u er rekening mee dat sommige binnenlandse vluchten in Indonesië, in het bijzonder naar Kalimantan (Borneo) can only be booked from the airports, maximum 1 maanden voor aankomst. Please contact us on the following email address for assistance with your domestic flights booking: info.kalimantan @ fnpf.org
Once you have landed in Pangkalan Bun, uw project gids zal u en uw collega-vrijwilligers, en zal u begeleiden naar de FNPF kantoor in de stad van Kumai, 40 minuten van de luchthaven.
Door zee – It is also possible to catch a ferry from Semarang or Surabaya directly to Kumai harbor (ongeveer 24 uur).
Volunteer projects at Lamandau River Wildlife Reserve
FNPF herbebossing projecten
Kajang bericht, FNPF herbebossing website,

will be a complete change of scenario

.

This project started in

2009,

and therefore

,

the land and forest regeneration process is still at the embryonic stage

. Tijdens uw verblijf in Pos Kajang, vrijwilligers zullen worden betrokken bij het planten, verpleging jonge boompjes, het maken van compost, en helpt met in kaart brengen van het gebied en het verzamelen van gegevens over de plaatselijke fauna en de leefomgeving. Vrijwilligers wordt verwacht dat zij helpen met deze dagelijkse activiteiten, hulp en begeleiding zal altijd beschikbaar zijn door onze buitendienst,

and of course by your tour guide. FNPF is also looking for volunteers willing to help with data collection and information recording

,

as well as the mapping of the reforestation area

. Camp personeel begeleiding en GPS zal worden verstrekt.

English classes




Volunteers will be involved in English lessons in the local school and English conversation with the locals in the village and with FNPF staff

.

Using your specific skills




FNPF is in need of skilled volunteers that can help to document the local wisdom and pass it on to the future generation.  To be a volunteer with FNPF

,

you do not need to have any specific skills other than being in general good physical health and enthusiasm to help us with our projects

,

but if you have any specific skills that you want us to be aware of

, stuur een email naar ons met details.

Examples are the organization of dance

,

music

,

and yoga classes for the local youth

.
Accommodatie
Accommodation and facilities are very basic. Vrijwilligers moeten ook bereid zijn om huisvesting te delen, maaltijden, gereedschap en persoonlijke ruimte met andere vrijwilligers en plaatselijke functionarissen.
Important: volunteers will not handle orangutans
Gelieve niet van toepassing als u hoopt te orang-oetans behandelen tijdens dit project.
In 2002 the Indonesian government introduced regulations which prevent orangutans that have been held in captivity from being released into areas containing wild orangutan populations (because of the risk of disease). Therefore, FNPF no longer runs a permanent orangutan rescue, rehabilitatie & release centrum. Instead FNPF focuses on reforestation to rebuild native orangutan habitat within Tanjung Puting National Park and Lamandau Reserve, and to help local communities.
FNPF redt zo nu en dan wilde orang-oetans van dichtbij palmolie plantages en verplaatst ze naar de veiligheid van het park of reservaat. Evenwel, FNPF does not directly work with orangutans, as there is considerable controversy over the real purpose and benefit of orangutan rehabilitation facilities (ze zijn geworden lucratieve toeristische attracties en maar weinig orang-oetans met succes uitgebracht om te overleven in het wild). Therefore, FNPF chooses to focus on reforestation projects to create habitat for wild and ex-captive orangutans (en andere wilde dieren). Herbebossing helpt ook het herstel van de natuurlijke omgeving, vermindert de bodemerosie en plotselinge overstromingen, en zal de bestrijding van de klimaatverandering. We combineren dit met community development projecten te profiteren brengen aan de lokale gemeenschappen (onderwijs, agro-bosbouw, eco-toerisme). Check our website to Sponsor een hectare van de Orangutan Habitat, helpen FNPF om native boshabitat weer op te bouwen ter bevordering en verbetering van de populatie orang-oetan.
Volunteers that join FNPF's program will not have direct contact with orangutans. Evenwel, volunteers will accompany the local school children to the 3pm feeding station of Tanjung Harapan as part of FNPF education program, where volunteers are very likely to see wild orangutans. Nevertheless, volunteers who want to visit Camp Leakey can arrange a tour before or after the project with local travel agencies. FNPF medewerkers zullen u graag helpen met vrijwilligers die.
What must I bring to Borneo?
Indonesian Rupiah cash

, voor uw persoonlijke uitgaven (je zou willen om souvenirs of koude dranken te kopen)
2

photocopies of your passport to process police checks

, dat is gebruikelijk voor toeristen in Indonesië

A photocopy of the Indonesian visa

.
Vrijwilliger Kosten met FNPF
The volunteer fees for 2012 are as follows:
Tanjung Putting Nationaal Park
1 week         (USD800)
2 weeks       (USD1,500)
3 weeks       (USD2,300)
Lamandau Reserve
1 week         (USD700)
2 weeks       (USD1,300)
3 weeks       (USD2,000)
Wat is inbegrepen in uw project kosten?
How to apply?
Email us with your preferred dates and any question you might have. Please CLICK HERE TO DOWNLOAD het aanvraagformulier in en stuur het naarinfo@fnpf.org. Wij zullen dan uw aanvraag beoordelen en te bevestigen of we de beschikbaarheid hebben. Voor het beveiligen van je plaatsing, U wordt dan gevraagd om een ​​borg van te betalen 50%. Houdt u er rekening mee dat we niet een plaats te beveiligen zonder een storting (we ontvangen veel verzoeken om vrijwilligerswerk te doen van mensen die veranderen hun plannen).