If you are  looking for an inherent understanding of local Indonesian communities, Kultur, åndelighet, truslene mot den fantastiske dyrelivet og habitat, and to experience the work of a small, local, front-line conservation and community development NGO, then you are the volunteer we are looking for. You will work closely with our staff and local communities and join a program that will benefit local inhabitants, wildlife and the habitat. Our program will give you a taste of what it is really like to live and work in a remote area, working for a small front-line conservation and community development organisation.
Vær oppmerksom på at vi ikke er en kommersiell drift. Alle inntektene fra gjestene er "donasjoner" og 100% av pengene blir brukt til å finansiere FNPF prosjektarbeid. Ved å bo med oss, du kommer til å bo i et unikt miljø, delta i bevaring og samfunnsutvikling arbeid, og gi midler som hjelper FNPF å fortsette sitt arbeid.
FNPF will place volunteers to work with our teams on one of our two project locations: Tanjung Putting National Park (TPNP) and Lamandau River Wildlife Reserve (LRWR).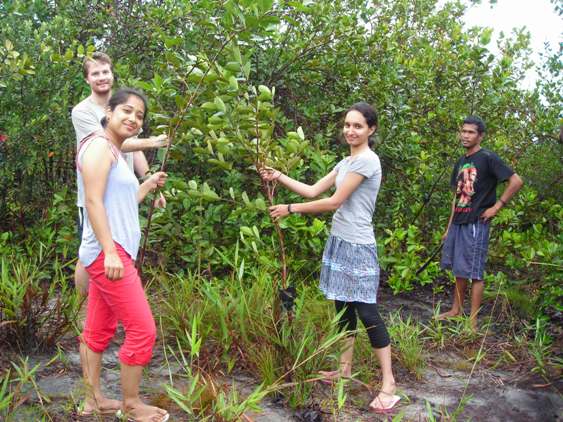 Volunteer projects in Tanjung Puting National Park

Community empowerment projects




Tanjung Harapan village

, også kjent som Sekonyer landsbyen,

is located on the borders of Tanjung Puting National Park. Volunteers will stay with a family in the village

,

will be welcomed in the local primary schools to teach English and will help the FNPF environment education program

. Frivillige vil leve med lokalbefolkningen som lokalbefolkningen.
Fra Sekonyer Village,

volunteers travel to the FNPF re-forestation sites of Pesalat and Padang Sembilan

,

where you can take part in the FNPF re-forestation project

, bidra til å plante trær, sykepleie saplings, overvåking av re-skogplanting stedet.

All this at a short distance from the Tanjung Puting orangutan release sites

,

which is surrounded by a stunning natural environment

. Du vil ikke glipp av muligheten til cruising langs Sekonyer elva og spot makaker, proboscis aper, red leaf aper hornbills, kingfishers, og hvis heldig nok også ville orangutanger og krokodiller.

FNPF re-skogplanting prosjekter


Pesalat

, befinner seg innenfor Tanjung sette nasjonalparken,

is the first re-forestation site established by FNPF

.

Volunteers can experience the benefits of a successful re-forestation project

.
Frivillige vil også besøke stedet for re-skogplanting Nine Golf, nær

Beguruh

re-avskoging område på grensen med Tanjung sette nasjonalparken, der frivillige vil tilbringe natten sover i hengekøyer.
At omtrent 1.5

hours trek from the Sekonyer River you can find the FNPF self-sustainable farm of Jerumbun

.

Volunteers will spend the night at the farm

,

help with farming and also have the opportunity to see the effects of oil palm plantations

,

and the logging and mining in the surrounding forest

.

Long term volunteers




Our program is also appropriate for those considering a long term volunteer role in a remote location

(

Central Kalimantan

eller andre steder i Indonesia).
Overnatting
Accommodations will be a mixture of home stay with local families, feltarbeidere kvartalene og hengekøyer i trærne. Please realize that our project sites are in remote and tough environments,med grunnleggende overnatting og mat, for authentic taste of the local way of life and jungle experience.  Adaptability to field conditions is required and a basic understanding of the local culture is advised
How to get to Central Kalimantan (Borneo)?
Pangkalan Bun is reachable…
Av luft – direct flights from Jakarta and from the main Javanese cities Semarang and Surabaya are scheduled daily (duration of the flight is about 1,5h). There are also flights from other Indonesian cities. Vær oppmerksom på at noen innenlands flyreiser i Indonesia, spesielt til Kalimantan (Borneo) can only be booked from the airports, maximum 1 måned før ankomst. Please contact us on the following email address for assistance with your domestic flights booking: info.kalimantan @ fnpf.org
Once you have landed in Pangkalan Bun, prosjektet guide vil møte deg og de andre frivillige, og vil følge deg til FNPF kontoret i byen Kumai, 40 minutter fra flyplassen.
Sjøveien – It is also possible to catch a ferry from Semarang or Surabaya directly to Kumai harbor (approximately 24 timer).
Volunteer projects at Lamandau River Wildlife Reserve
FNPF re-skogplanting prosjekter
Kajang Innlegg, FNPF re-skogplanting stedet,

will be a complete change of scenario

.

This project started in

2009,

and therefore

,

the land and forest regeneration process is still at the embryonic stage

. Mens de bor på Pos Kajang, frivillige vil bli involvert i planting, sykepleie saplings, å lage kompost, samt bidra med å kartlegge området og samle inn data på den lokale dyrelivet og habitat. Frivillige vil bli forventet å hjelpe med disse daglige aktiviteter, hjelp og veiledning vil alltid være tilgjengelig ved våre feltarbeidere,

and of course by your tour guide. FNPF is also looking for volunteers willing to help with data collection and information recording

,

as well as the mapping of the reforestation area

. Camp ansatte veiledning og GPS vil bli gitt.

English classes




Volunteers will be involved in English lessons in the local school and English conversation with the locals in the village and with FNPF staff

.

Using your specific skills




FNPF is in need of skilled volunteers that can help to document the local wisdom and pass it on to the future generation.  To be a volunteer with FNPF

,

you do not need to have any specific skills other than being in general good physical health and enthusiasm to help us with our projects

,

but if you have any specific skills that you want us to be aware of

, vennligst send oss ​​med detaljer.

Examples are the organization of dance

,

music

,

and yoga classes for the local youth

.
Overnatting
Accommodation and facilities are very basic. Frivillige må også være forberedt på å dele rom, måltider, redskaper og personlig rom med andre frivillige og lokalt ansatte.
Important: volunteers will not handle orangutans
Vennligst ikke gjelder hvis du håper å håndtere orangutanger i løpet av dette prosjektet.
I 2002 the Indonesian government introduced regulations which prevent orangutans that have been held in captivity from being released into areas containing wild orangutan populations (because of the risk of disease). Therefore, FNPF no longer runs a permanent orangutan rescue, rehabilitering & release senter. I stedet FNPF fokuserer på skogplanting for å gjenoppbygge opprinnelige orangutang habitat innenfor Tanjung Putting nasjonalpark og Lamandau Reserve, and to help local communities.
FNPF redder tidvis ville orangutanger fra nærliggende palmeoljeplantasjer og flytter dem til sikkerheten i parken eller reserve. Men, FNPF does not directly work with orangutans, as there is considerable controversy over the real purpose and benefit of orangutan rehabilitation facilities (de har blitt lukrative turistattraksjoner og få orangutanger er vellykket lansert for å overleve i naturen). Therefore, FNPF chooses to focus on reforestation projects to create habitat for wild and ex-captive orangutans (og annet dyreliv). Skogplanting hjelper også gjenopprette den naturlige miljøet, reduserer jorderosjon og flom, og vil bekjempe klimaendringene. Vi kombinerer dette med samfunnsutvikling prosjekter for å bringe fordel for lokalsamfunnene (utdanning, agro-skogbruk, øko turisme). Check our website to Sponsor en hektar av Orangutan Habitat, hjelpe FNPF å gjenoppbygge stedegne skogen habitat for å støtte og øke bestanden av orangutang.
Volunteers that join FNPF's program will not have direct contact with orangutans. Men, volunteers will accompany the local school children to the 3pm feeding station of Tanjung Harapan as part of FNPF education program, where volunteers are very likely to see wild orangutans. Nevertheless, volunteers who want to visit Camp Leakey can arrange a tour before or after the project with local travel agencies. FNPF ansatte vil gjerne hjelpe frivillige med at.
What must I bring to Borneo?
Indonesian Rupiah cash

, for dine personlige utgifter (kan det være lurt å kjøpe souvenirer eller kalde drikker)
2

photocopies of your passport to process police checks

, som er normal praksis for turist i Indonesia

A photocopy of the Indonesian visa

.
Volunteer Kostnader med FNPF
The volunteer fees for 2012 are as follows:
Tanjung Putting National Park
1 week         (USD800)
2 weeks       (USD1,500)
3 weeks       (USD2,300)
Lamandau Reserve
1 week         (USD700)
2 weeks       (USD1,300)
3 weeks       (USD2,000)
What is included in your project fee?
How to apply?
Email us with your preferred dates and any question you might have. Please CLICK HERE TO DOWNLOAD søknadsskjemaet og send det tilinfo@fnpf.org. Vi vil deretter vurdere forespørselen og bekrefte om vi har tilgjengelighet. For å sikre plassering, Du vil da bli bedt om å betale et depositum på 50%. Vær oppmerksom på at vi ikke kan sikre seg en plass uten innskudd (vi får mange forespørsler til frivillig fra folk som endrer sine planer).