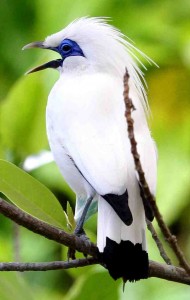 FNPF's Bali Starling Conservation Project on Nusa Penida has already saved from extinction in the wild the critically endangered Bali Starling (Leucopsar rothschildi), conosciuto anche come Mynah Rothschild,Bali Myna, Bali Mynah e Bali Jalak. The Bali Starling is Bali's emblem bird, is endemic to Bali and is one of the world's most endangered bird species.
FNPF has uniquely transformed the 3 isole di Nusa Penida (Penida, Ceningan and Lembongan) into a bird sanctuary for endangered birds. In 2006, after 2 years of conservation education, conservation events, e incontri con i capi villaggio e le loro comunità, FNPF ricevuto accordo da tutte le 41 villages on Penida that a traditional customary regulation "awig awig" would be passed to make protection of birds obligatory by all village residents. This effectively converted the islands into a bird sanctuary where birds can fly freely in the wild under the protection of the communities.
In cambio, FNPF sponsor bambini di frequentare la scuola e l'università; gestisce una biblioteca comunità; corsi di danza fondi tradizionali; insegna l'agricoltura sostenibile; sviluppa e distribuisce liberamente alberelli per i villaggi di costruire redditi futuri da agro-forestali; alberi piante su terreni degradati ripristinare le foreste. il miglioramento dell'istruzione e economici che sono in armonia con l'ambiente consenta alle comunità locali per migliorare il loro benessere e partecipare alla conservazione. Alberi di ridurre l'erosione del suolo, aumento delle precipitazioni e di fornire benefici economici a residenti e habitat per gli uccelli.
I vantaggi di costo e la sostenibilità di approccio olistico FNPF's, rispetto ad altri modelli, is most evident in the outcome of the Bali Starling.
Despite many decades trying to rebuild

Bali Starling

numbers in the West Bali National Park with millions of dollars spent by the Indonesian government and NGOs on security and the release of hundreds of cage-bred birds into the park

…

by 2005 poachers

(

primarily from local villages

)

had reduced wild

Bali Starling

numbers to less than

10.
Per converso,

FNPF initially released just

64

Bali Starlings

onto the island of Nusa Penida in

2006 & 2007. Da 2010 vi sono stati oltre 100,

making this the ONLY successful

Bali Starling

project

.

Then in

2011

released another

10.

By mid

2012

it was estimated  that there were at least

150

Bali Starlings and they had spread acorss all

3

island

.

FNPF's approach is uniquely successful because the the local communities on Nusa Penida also benefit from FNPF's project

. Di conseguenza,

despite being a poor island

,

the communities protect the highly valuable birds from being stolen and sold

.
The initial batch of Bali Starlings rehabilitated and released by FNPF onto Nusa Penida came from the Begawan Giri Hotel (later Begawan Foundation). FNPF's founder and bird specialist, Dr Bayu Wirayudha, designed and managed the bird breeding programme at the Bali hotel to rear almost 100 birds from just 2 paia importati dal Regno Unito. The birds were relocated to FNPF's Centre on Nusa Penida, where 64 birds were rehabilitated and released in 2006/7.
Essi sono stati continuamente monitorati dallo staff FNPF dal rilascio (diffusione e la copertura, numeri, ciclo di allevamento, scelta di cibo e habitat) and their numbers had increased to at least 100 by end of 2009. In 2011 we captured photos of Bali Starlings without rings (bande) sulle loro gambe mangiare ai loro pulcini … il che significa che i pulcini sono stati almeno 3 ° generazione dei volatili in originale rilasciata.
To increase the genetic diversity of the population on Nusa Penida,FNPF sta lavorando con più di Bali Starling allevatori di rilasciare almeno 10 additional Bali Starlings each year, a partire dal 2011, fino a quando siamo convinti che la popolazione è fattibile in termini di numero e della diversità genetica.
Nel mese di luglio 2011, 10 young Bali Starlings were transported from Indonesia's most reputable Bali Starling breeder in Java, to FNPF's centre on Nusa Penida for rehabilitation. Then after 5 months of rehabilitation at the FNPF centre, il 10 Baali Starlings were released. The release ceremony took place in Ped temple, close to FNPF's centre, and was attended by the Governor of Bali.
Click qui to read more about the release by the Governor of Bali.
Please support our project by sponsoring a Bali Starling for FNPF to rehabilitate and release.