If you are looking for an inherent understanding of local Indonesian communities, culture, spirituality, the threats to the amazing wildlife and habitat, and to experience the work of a small, local, front-line conservation and community development NGO, then you are the volunteer we are looking for. You will work closely with our staff and local communities and join a program that will benefit local inhabitants, wildlife and the habitat. Our program will give you a taste of what it is really like to live and work in a remote area, working for a small front-line conservation and community development organisation.
Please note that we are not a commercial operation. All proceeds from guests are "donations" and 100% of the money is used to fund FNPF's project work. By staying with us, you get to stay in a unique environment, participate in conservation and community development work, and provide funds that help FNPF to continue its work.
FNPF will place volunteers to work with our teams on one of our two project locations: Tanjung Puting National Park (TPNP) and Lamandau River Wildlife Reserve (LRWR).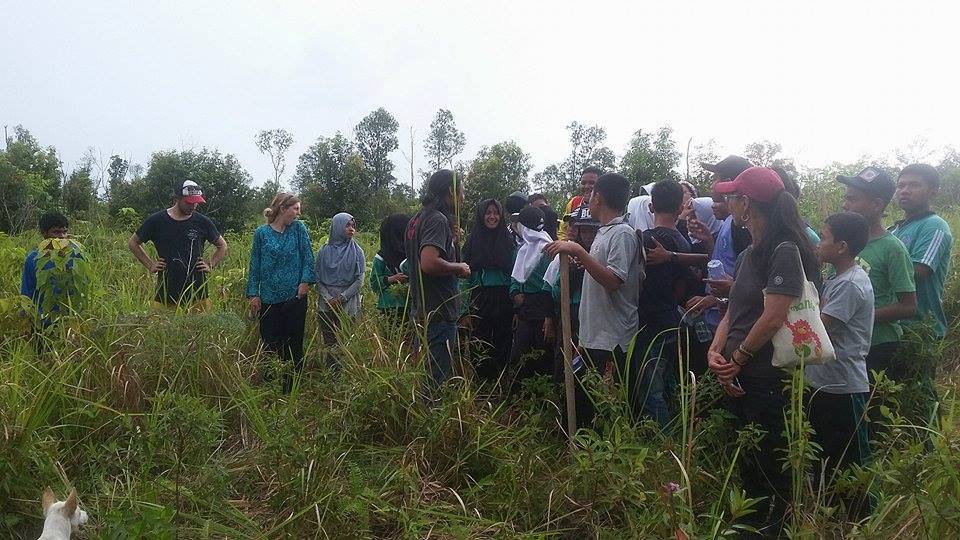 Volunteer projects in Tanjung Puting National Park
Tanjung Puting National Park is located on the banks of the Sekonyer River. Our main volunteer centre is at Jerumbun, close to Sekonyer village, approximately 1.5 hours up river from the port town of Kumai, which is a 30-minute drive from the Pankalanbun airport.
Lamandau is approximately a 4-hour drive from the Pankalanbun airport. For those interested in teaching English to school children, we can usually arrange to place up to 5 persons at our office near Kumai, or within local family houses in Sekonyer village.
Jerumbun Volunteer Centre
This is FNPF's main volunteer centre in Kalimantan. It is located on the banks of the Sekonyer River adjacent to the National Park. We have approximately 100 hectares as a buffer zone between the National Park and a Palm Oil plantation. The centre is the primary location of accommodation, and volunteer activities.
For more information please download our brochure here.
How to get to Central Kalimantan (Borneo)?
Pangkalan Bun is reachable…
By air – direct flights from Jakarta and from the main Javanese cities Semarang and Surabaya are scheduled daily (duration of the flight is about 1,5h). There are also flights from other Indonesian cities. Please note that some domestic flights in Indonesia, especially to Kalimantan (Borneo) can only be booked from the airports, maximum 1 month prior to arrival. Please contact us on the following email address for assistance with your domestic flights booking: info.kalimantan@fnpf.org
Once you have landed in Pangkalan Bun, your project guide will meet you and your fellow volunteers, and will accompany you to the FNPF office in the town of Kumai, 40 minutes away from the airport.
By sea – It is also possible to catch a ferry from Semarang or Surabaya directly to Kumai harbor (approximately 24 hrs).
Volunteer projects at Lamandau River Wildlife Reserve
FNPF re-forestation projects
Pos Kajang, FNPF re-forestation site, will be a complete change of scenario. This project started in 2009, and therefore, the land and forest regeneration process is still at the embryonic stage. While Staying at Pos Kajang, volunteers will be involved in planting, nursing saplings, making compost, as well as helping with mapping the area and collecting data on the local wildlife and habitat. Volunteers will be expected to help with these daily activities, help and guidance will be always available by our field staff, and of course by your tour guide. FNPF is also looking for volunteers willing to help with data collection and information recording, as well as the mapping of the reforestation area. Camp staff guidance and GPS will be provided.
English classes
Volunteers will be involved in English lessons in the local school and English conversation with the locals in the village and with FNPF staff.
Using your specific skills
FNPF is in need of skilled volunteers that can help to document the local wisdom and pass it on to the future generation.  To be a volunteer with FNPF, you do not need to have any specific skills other than being in general good physical health and enthusiasm to help us with our projects, but if you have any specific skills that you want us to be aware of, please email us with details. Examples are the organization of dance, music, and yoga classes for the local youth.
Accommodation
Accommodation and facilities are very basic. Volunteers must be also prepared to share accommodation, meals, work tools and personal space with other volunteers and local staff.
Important: volunteers will not handle orangutans
Please do not apply if you are hoping to handle orangutans during this project.
In 2002 the Indonesian government introduced regulations which prevent orangutans that have been held in captivity from being released into areas containing wild orangutan populations (because of the risk of disease). Therefore, FNPF no longer runs a permanent orangutan rescue, rehabilitation & release centre. Instead FNPF focuses on reforestation to rebuild native orangutan habitat within Tanjung Puting National Park and Lamandau Reserve, and to help local communities.
FNPF occasionally rescues wild orangutans from nearby palm oil plantations and relocates them into the safety of the park or reserve. However, FNPF does not directly work with orangutans, as there is considerable controversy over the real purpose and benefit of orangutan rehabilitation facilities (they have become lucrative tourist attractions and few orangutans are successfully released to survive in the wild). Therefore, FNPF chooses to focus on reforestation projects to create habitat for wild and ex-captive orangutans (and other wildlife). Reforestation also helps restore the native environment, reduces soil erosion and flash flooding, and will combat climate change. We combine this with community development projects to bring benefit to the local communities (education, agro-forestry, eco tourism). Check our website to Sponsor a Hectar of Orangutan Habitat, help FNPF to rebuild native forest habitat to support and increase population of orangutan.
Volunteers that join FNPF's program will not have direct contact with orangutans. However, volunteers will accompany the local school children to the 3pm feeding station of Tanjung Harapan as part of FNPF education program, where volunteers are very likely to see wild orangutans. Nevertheless, volunteers who want to visit Camp Leakey can arrange a tour before or after the project with local travel agencies. FNPF staff will be happy to assist volunteers with that.
What must I bring to Borneo?
Indonesian Rupiah cash, for your personal expenses (you might want to buy souvenirs or cold drinks)
2 photocopies of your passport to process police checks, which is normal practice for tourist in Indonesia
A photocopy of the Indonesian visa.
Long sleeve light clothing
Hat
Sunscreen
Sunglasses
Insect repellent
Good walking shoes
good gloves for farming
camera
dry bag for electronic items
waterproof jacket
battery pack / power bank
torch / head torch
towel
large water bottle
flip flops
Cash (there are no ATMS once you leave Kumai for Jerumbun)
Books, musical instruments, music, podcasts etc. Anything  to entertain yourself
Basic first aid kit
Volunteer Costs with FNPF
The volunteer fees are as follows:
Tanjung Puting National Park and Lamandau Reserve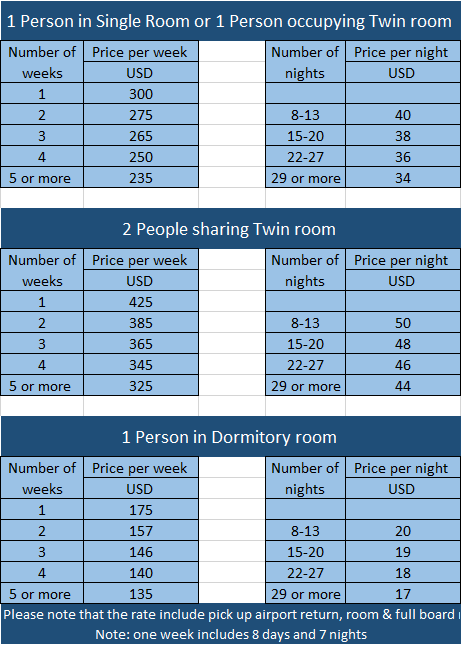 The rate includes :
Transport airport to working site return
Accommodation at FNPF site office
Full board meal similar with our staff
Police permit
Transportation in conjunction with the work
Not Included – the fee (Tanjung Puting National Park) :
Park entrance fee (around USD20 – 25 per day)
Insurance
Other personal expenses
Not included in the fee (Lamandau Reserve) :
Transportation from FNPF Branch Office to Lamandau River Reserve about USD 200 return can be share up to 3 person.
Insurance
Other personal expenses
How to apply?
Email us with your preferred dates and any questions you might have. Please CLICK HERE TO APPLY the application form and send it to info@fnpf.org. We will then review your request and confirm whether we have availability. To secure your placement, you will then be asked to pay a deposit of 50%. Please note that we cannot secure a place without a deposit (we receive many requests to volunteer from people who change their plans).
Download our brochure here for more information.