Our volunteer programme provides an opportunity for students and other individuals to gain experience in the care of animals as well as in animal conservation. No animal-related qualifications or experiences are necessary. However, any volunteers who have specialist skills, whether in animal-related or in any other field, are a great help to us.
VOLUNTEER ACTIVITIES
Main activities volunteers will be involved with are providing enrichment for the animals, feeding the animals and cleaning/maintenance of the enclosures. Other projects, i.e. observing animal behaviour, might be available occasionally. However, handling of animals is not allowed under any circumstances. Volunteers are expected to work for 3-5 hours per day. A typical day is as follows:
7am – 8am Breakfast
8am – 9am Food preparation and feeding
9am – 10am Cleaning enclosures
10am -12pm Gardening/maintenance work
12pm – 2pm Break and Lunch
2pm – 3pm Food preparation and feeding
3pm – 4pm Making enrichment
4pm onwards Free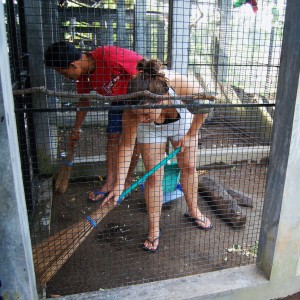 ACCOMMODATION
Volunteers stay in the main house at the rescue center. Facilities for the volunteers include a bedroom with bunk beds, two toilets, a shower, a small kitchen, where volunteers can prepare their own meals and a social area.
REQUIREMENTS AND RESPONSIBILITIES
Volunteers are expected to follow the guidelines at BWRC, including house rules as well as working guidelines. Volunteer should be fit enough to work in tropical climate and have the recommended vaccinations.
The volunteer fee contributes to the running costs of the centre as well as accommodation for the volunteers. The current fees for sharing dormitory room are as follows:
One week, USD 150
Two weeks, USD 125/week
Three weeks or more, USD 110/week
How to apply?
Please CLICK HERE TO DOWNLOAD the application form and send it to info@fnpf.org. We will review your application and get back to you as soon as possible.