FNPF invites volunteers to help, whether you are seeking the adventure of working alongside local Indonesians at our project sites, doing scientific research, raising funds from your home, donating equipment from your business, or joining FNPF as a long term volunteer.
Please understand that volunteers must pay to participate with FNPF projects. It is the small daily payments from volunteers that contribute to the costs of funding FNPF's projects. Volunteering with FNPF provides
participants with the opportunity of learning about conservation and community development in Indonesia
FNPF with a source of money to contribute towards the running of the projects
Please note that we are not a commercial operation. All proceeds from guests are "donations" and 100% of the money is used to fund FNPF's project work. By staying with us, you get to stay in a unique environment, participate in conservation and community development work, and provide funds that help FNPF to continue its work.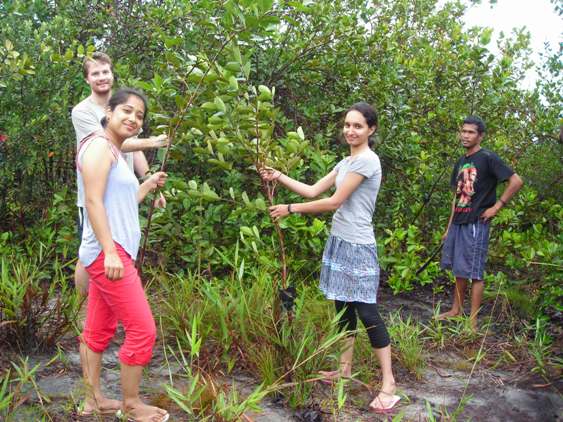 Short Term volunteering opportunities
You can volunteer in Bali or volunteer in Kalimantan on a short term basis. Please click on the links to read about volunteering at each location.
Also, read the Jetstar Magazine's article about journalist Claire Dunn's experience as an FNPF volunteer on Nusa Penida.
Long term volunteering opportunities in FNPF
We seek and welcome a small number of volunteers with specific skills and experience to join FNPF on a longer term basis (eg. longer than 3 months). Long term volunteers work directly for FNPF's management team. They volunteer to work as members of FNPF staff and must bring considerable experience in a particular field, such as:
fund raising and marketing
animal rehabilitation and release
project management
bookkeeping and financial management
graphic design, computer administration
Note that we are a small organisation and only have the capacity for a small number of volunteers to work with us on a longer term basis. Please click here if you want apply to join FNPF as a long term volunteer.
Volunteering from home or In-kind donations from business
Volunteers around the world help FNPF by informing other people about the threats to wildlife, forests and indigenous people in Indonesia. Perhaps you can organise an event to raise awareness and money for FNPF?
Or perhaps your business can provide in-kind services to help FNPF? We especially need help in writing grant proposals, graphic design, and accounting services.
Please contact us if you would like to volunteer from home or provide in-kind assistance to FNPF.