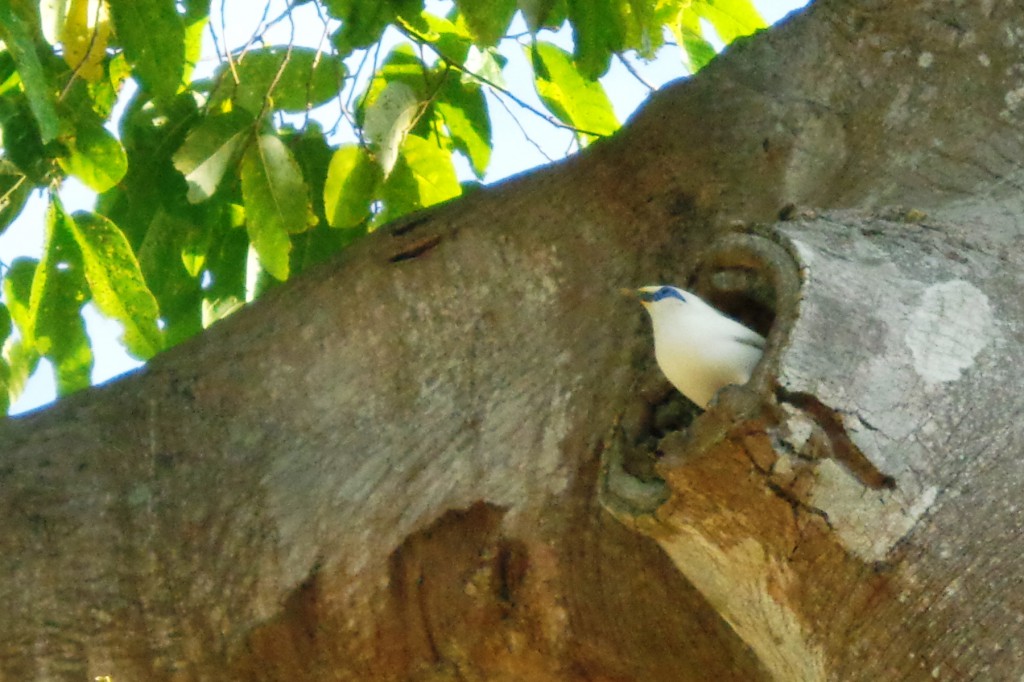 Nusa Penida, Bali: Critically-endangered Bali starling
Bali, Indonesia – 15 October, 2014: NUSA PENIDA islands, off Bali, will soon be an official Bali starling bird sanctuary protected from wildlife traffickers under regional government law, with approval now under process, highlighting the success of community conservation programs in Indonesia drawing attention from conservationists and ecotourists worldwide.
Bali Bird Sanctuary, a Nusa Penida islands bird haven now protected under traditional law to ensure survival of the Bali starling (Leucopsar rothschildi) – rated as Critically-endangered on 2013 IUCN Threatened Species list – was established with local communities in 2004 by Indonesian NGO Friends of the National Parks Foundation (FNPF) to strengthen local habitat and enforce native bird protection on the entire three islands group, off Bali.
Legal government sanctuary status is under consideration pending approval by the Klungkung Regency Parliament of Bali impressed by results in saving this iconic Bali emblem bird poached and trafficked to near brink of extinction in the wild. Since FNPF began the bird conservation program on Nusa Penida, the Bali starling population has increased to more than 100 birds from less than 10 left in the wild.
Head of Klungkung Regency, I Nyoman Suwirta explained that the process of legal government sanctuary protection, now underway, will also strengthen traditional village legal structure while giving recognition of the traditional law (awig-awig) practiced by the island communities of Nusa Penida to protect Bali starlings and other native birds from global poaching and trafficking crime.
"As the Head of Klungkung Regency, it is my responsibility to protect endangered animals. With an increasing population of the Bali starling, government working with traditional villages to support local laws and the aim to stop wildlife trafficking, we will increase the credibility of Klungkung," said I Nyoman Suwirta.
Official sanctuary approval by government will highlight Nusa Penida's community efforts working with FNPF in such a successful conservation program – including reforestation of tree species, habitat restoration, protection and monitoring of the Bali starling and other endangered native birds at risk from poachers and other threats – bringing positive economic benefits to the community such as sustainable ecotourism.
"Recognition of Nusa Penida island communities working together with FNPF to save the Bali starling is gaining world attention, and will bring more sustainable benefit to Nusa Penida by attracting international birdwatchers and other ecotourists interested in the natural beauty, traditional culture and community spirit," explained FNPF Founder & Director Dr Bayu Wirayudha.
The Head of Klungkung Regency, I Nyoman Suwirta will visit Bali Bird Sanctuary during October to welcome Nusa Penida's first conservation explorer vessel to the island bringing 85 ecologists and conservationists from Durrell Wildlife Conservation Trust on a 'Critical Species and Islands-at-Risk' trip joining FNPF to witness a Balinese-Hindu ceremonial release of four Bali starlings on this exploration journey, that includes Borneo and Komodo.
About Durrell Wildlife Conservation Trust 'Critical Species and Islands-at-Risk' Tour
Fascinating Guest Speakers on board the exploration vessel, operated by The Durrell Wildlife Conservation Trust included – zoologist, author and documentary-producer Dr Lee Durrell, MBE, and Singapore Zoo Curator Bernard Harrison, an expert in Southeast Asia conservation.  Both lectured on board on the values of the critically-endangered Bali Starling conservation efforts, which FNPF has focused on since saving through breeding and release programs since 1999.
The expedition, which included the visit to Nusa Penida, is the 4th conservation-focused expedition for The Durrell Wildlife Conservation Trust – previous exploration trips have been to Madagascar, the remote islands of the Indian Ocean and a Latin American journey to Costa Rica, Panama and Colombia.