Our Goal in Pejeng
Our main goal in Pejeng is to engage with the local community to protect the wildlife and their habitat, as well as support organic farming and develop sustainable tourism that will benefit the local population.
About Pejeng
Pejeng, home of the FNPF headquarters, is a village 5 km outside the buzzing town of Ubud and unlike the latter is rather unknown by tourists. For the map to Pejeng Click Here!
It is a small traditional village surrounded by beautiful rice fields and it also happens to be the biggest archaeological site in Bali with 44 temples (most of them declared National Heritage) and a Prehistory museum. Pejeng is also a Wildlife Sanctuary and a paradise for birdwatchers. Downtown Pejeng is lively with a morning market and a night market and plenty of Warungs to taste Balinese and Indonesian food.
HOW YOU CAN HELP IN PEJENG?
We are in need of a diversity of volunteer profiles, from lending a hand in the organic farms and gardens to wildlife monitoring or teaching English to the local people.
TEACHING
English
This should be a conversational type of lessons, casual and entertaining, that would enable the locals to gain confidence and start speaking English to foreigners. It could be at many levels: people that has restaurants and shops, market vendors, etc. Or potential tourism workers: people that could act as a tour guide showing around Pejeng, people that could host tourists as a homestay, etc.
The goal would be for them to learn the basics of conversation (introducing yourself, basic questions, and numbers). Then for each group something more specific, vocabulary that they might need (es decir,. food related for the market and restaurant owners, household for the homestays). It would be useful to provide them with printed vocabulary which they can take home.
Hospitality
This lessons would have as a main goal to give the best service possible to the tourists and to improve the cross-cultural communication skills of the locals. It would be for the locals to find out what do tourists expect, the different cultural codes, different types of tourists, and their needs.  All in all how to give tourists the best experience and avoid cultural misunderstandings and disappointments.
PROMOTING
Develop a website for Pejeng with all the information on the village, maps, how to get there and what to do. Try to position it through the social networks: Facebook, Gorjeo, Instagram. Using hashtags, taking advantage of the amount of online buzz about Ubud.
Organize experiences for bloggers, journalists who later can write about Pejeng providing free advertisement. First the target could be more specific (I.e. backpackers, birdwatchers, history enthusiasts), and later on broaden the spectrum.
HERITAGE
To catalog the heritage of Pejeng in depth would be costly, but it would be good at least to make the cultural and natural sites well-signposted (signs, explanatory panels). That could be the work of a volunteer. The following things could be done:
The museum, for instance, is lacking some English signs that at least explain what every piece is and when is it from.
Some signs that indicate the way to the most hidden places, like the temple in the river.
Ideally, every important monument could have a sign in Indonesian and English with a brief explanation in both languages.
Do I need any special background or experience to volunteer with FNPF in Pejeng?
The only volunteer position that requires experience would be for the wildlife monitoring and bird feeding for which you would need an experience on handling animals which we are more than happy to teach. For organic farming you don't need experience, any help is welcome although you can be more useful to the project if you have knowledge on the topic. The reintroduction of organic farming is still very new to the village so it is crucial to start spreading the concept and show the farmers its benefits.
For language teaching you don't need to have any previous experience except being fluent in English of course. Although a basic knowledge about simple Indonesian language will be very helpful. The idea is for the locals to gain confidence in the language to be able to communicate to foreign visitors, so it will be a conversation based type of lessons. This is important in terms of empowering the local community to be able to cover tourism related positions when Pejeng starts growing as a tourist destination.
Alojamiento
Volunteers live in the accommodation facility at the FNPF headquarters, where there is the FNPF office, the Bird Breeding Centre for native Bali species for reintroduction program, an Aquaponic project (integration of agriculture and aquaculture) and a Culture and Environmental School for young children. There is a shared dormitory and one twin room, dos aseos, two showers and a shared kitchen, so you can buy groceries at the market or at the shops and cook there.
What is food like?
Local food is based on rice, chicken, eggs and vegetables. If you are not used to it, it can be a bit spicy. If you have any issues with the local food, there are supermarkets nearby that provide all kinds of food, especially those that are hard to find in the local warungs (small restaurants) and grocery stores: bread, ham, cheese, pasta. At FNPF there is a kitchen where you can cook your own food.
How many hours a day am I expected to work?
Although there might be more intensive volunteering positions occasionally, you are usually expected to work from 2 a 4 hours a day. That will be enough to play an important role in the FNPF project while you engage in the local community and yet you'll still have free time to relax, explore and enjoy life in Bali!
What can I do on my free time?
Ubud is very close by and provides plenty of entertainment with its many cafes, restaurants and shops, even in Pejeng there are lots of things to see and do: you can visit the many temples, the museum, hike among the rice fields and the river, bike around town, taste the local food in the markets, learn about the local culture.
Of course we encourage you to go beyond and discover other parts of the island. Being in the center of the island, Pejeng is the perfect base to go anywhere in Bali: Kuta, Sanur and Denpasar are 50 minutes to 1 hour away by car. Relaxing and surfing in the gorgeous Balinese beaches, taking a trip to the mountains, swimming in a lake, waterfall or visiting a volcano are only few of the things you can do.
A part from all these places, we would love to welcome you in our Wildlife Sanctuaries in Besikalung and the island of Nusa Penida, so you can meet the rest of the FNPF family.
How can I get around during my time in Pejeng?
You can pretty much walk or bike everywhere in Pejeng, although hiring a motorbike or a car is useful if you are planning to go to Ubud, the main city that is 15 minutes away from Pejeng and where you can find lots of restaurants and things to do. The coastal cities of Sanur and Kuta and the capital, Denpasar, are all about one hour away by car.
The cost of a motorbike rental is about IDR 55.000 per day and IDR 600.000 per month, while a car rental IDR 200.000 per day or IDR3.500.000 per month. Motorbike taxi to Ubud is about IDR50.000 return. Gasoline price is very cheap as it never exceed USD 1.
Do I have to cover the cost of my stay?
You will have to pay USD14 per night in the shared dormitory. Todas las camas tienen ropa de cama limpia (hojas, almohadas y colcha), mosquiteros, y las habitaciones tienen un ventilador eléctrico (no air-con).
While we are aware that this price is similar to what you would pay in a hostel, you have to think that in a hostel the money goes only to the owner, while staying in the FNPF dormitory the money goes for a non-profit organization and will help to preserve the wildlife in the area and to protect its habitat, as well as support the local community. So you are actually investing in a project you believe in.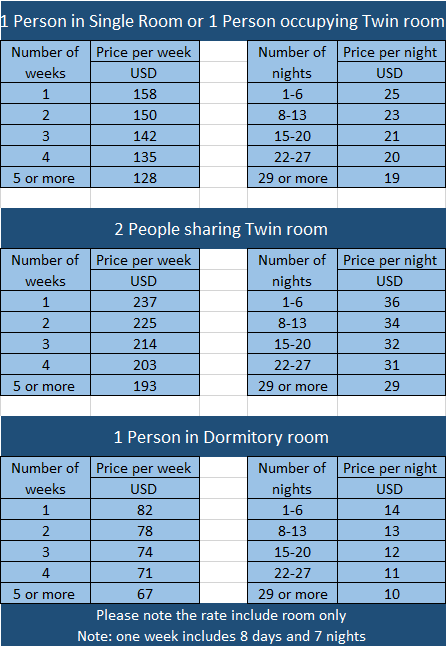 For map to Pejeng CLICK HERE!
Por FavorHAGA CLICK AQUÍ PARA SOLICITAR y enviar el formulario de solicitud de info@fnpf.org. Nosotros revisaremos su solicitud y una vez que hayamos procesado su solicitud, nosotros le enviaremos un correo electrónico confirmando la disponibilidad.
Para asegurar su colocación, se le pedirá que pagar un depósito de 50% para asegurar su lugar y 100% pago una semana antes de la llegada. Tenga en cuenta que no podemos asegurar un lugar sin un depósito (recibimos muchas peticiones de voluntarios de las personas que cambian sus planes). Para pagar su depósito, please click the DONATE button.
Keep in touch with us by suscribirse a nuestro boletín de noticias
Special thanks to Laia Escribano for helping us building this page.