Our Bali Starling Conservation Project on Nusa Penida has brought this critically endangered bird back from the brink of extinction in the wild.
The beautiful blue-eyed Bali starling (Leucopsar rothschildi) – also known as Rothschild's Mynah, Bali Myna, Bali Mynah and Jalak Bali – is Bali's mascot. It is endemic to the island and is one of the world's most endangered bird species.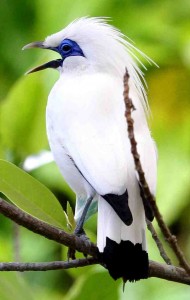 We have  transformed three tiny islands just off the coast of Bali – Nusa Penida, Nusa Ceningan and Nusa Lembongan – into a unique sanctuary for endangered birds. Today there is estimated to be more than 100 Bali starling living in the wild across these three island.
Following two years of conservation education and meetings all of Penida's villages agreed in 2006 to introduce traditional customary regulations to protect the birds. This effectively converted the islands into a sanctuary where birds can now fly freely in the wild under the protection of the community.
In return, we sponsor children to attend school and university; runs a community library; fund traditional dance classes; teach sustainable farming; grow and freely distributes tree saplings for villages to build future incomes from agroforestry; plant trees on degraded land to restore forests.
Education and economic improvements that are in harmony with the environment enable the local communities to improve their wellbeing and participate in conservation. Trees reduce soil erosion, increase rainfall and provide economic benefit to residents and habitat for birds.
The cost and sustainability benefits of our holistic approach, compared to other models, is evident in the outcome of the Bali starling Conservation Project:
Despite many decades trying to rebuild Bali starling numbers in the West Bali National Park with millions of dollars spent by the Indonesian government and NGOs on security and the release of hundreds of cage-bred birds into the park. By 2005 poachers (primarily from local villages) had reduced wild Bali starling numbers to less than 10.
Conversely, we initially released just 64 Bali starlings onto the island of Nusa Penida in 2006 & 2007. By 2010 there were over 100, making this the ONLY successful Bali starling project. Then in 2011 we released another 10. By mid 2012 it was estimated  that there were at least 105 Bali Starlings and they had spread across all three islands. FNPF's approach is uniquely successful because the the local communities on Nusa Penida also benefit from FNPF's projects. Consequently, despite being a poor island, the communities protect the highly valuable birds from being stolen and sold.
The initial batch of Bali starlings rehabilitated and released by FNPF onto Nusa Penida came from the Begawan Giri Hotel (later Begawan Foundation). Our founder and bird specialist, Dr Bayu Wirayudha, designed and managed the bird breeding programme at the Bali hotel to rear almost 100 birds from just two pairs imported from the United Kindgom. The birds were relocated to our center on Nusa Penida, where 64 birds were rehabilitated and released in 2006/7.
They have been continuously monitored by our staff since the release  - spread and coverage, numbers, breeding cycle, choice of food and habitat – and their numbers had increased to at least 100 by end of 2009. In 2011 we captured photos of Bali starlings without rings (bands) on their legs feeding their chicks – meaning that the chicks were at least 3rd generation from the original birds released.
To increase the genetic diversity of the population on Nusa Penida we are working with multiple Bali starling breeders to release at least 10 additional Bali starlings each year, until we are convinced that the population is viable in terms of numbers and genetic diversity.
Half a dozen captive-bred Bali starling chicks were born at our conservation center on Nusa Penida in late 2013. Read more about the first lot of these hatchlings.
Please support our project by adopting a Bali starling which we will rehabilitate and release. For more information send us an email at info@fnpf.org