BOARD
Drh. (Veterinary) I. Gede Nyoman Bayu Wirayudha - CEO of Friends of the National Park Foundation
Leksmono Santoso – CEO Remote Destination Tour & Travel
Drh. (Veterinary) Nyoman Budiartha – Veterinary Practitioner Bali
ADVISORY  BOARD
Dr Sri Suci Utami Atmoko
Dr. Sri Suci Utami Atmoko, since 2002 at Faculty of Biology-Universitas Nasional (UNAS) in Jakarta, supervising under graduate and graduate students in universities in Jakarta, Sumatra and Kalimantan.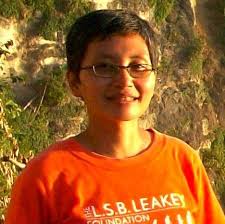 Almost 20 years orangutan research and conservation, mainly conducted in Ketambe, Leuser National Park, Aceh, Sumatra, and later in Tuanan, Central Kalimantan with behavior, ecology, physiology and genetics as her main subjects. She started long term field research in Ketambe with socio-ecology of sumatran orangutans with dissertation on bimaturism in orangutan males: reproductive and ecological strategies for her doctoral degree from Utrecht University (under supervision Prof. J.A.R.A.M van Hooff).
Currently together with UNAS research team, she is doing collaboration research with Prof. Carel van Schaik (Zurich University) group and Dr. Erin Vogel (Washington University) group for comparing island differences on orangutan ecology, behavior, genetic, physiology and nutrient values.
Ms. Utami Atmoko has expertise in field work, film advising, as well as training on monitoring ecology and conservation biology for local people and government, national NGOs and national universities. She develops, organizes and maintains the communication between UNAS and their national and international partners for their research network [national and overseas Universities, national and international NGOs, Indonesian Institute of Sciences (LIPI), Ministry of Forestry (MoF)].
Recently, together with OCSP-USAID survey team, she has updated the sumatran orangutan distribution by re-finding wild orangutan populations in West Toba Region-North Sumatra. She has also participated in other conservation activities, such as being a member of a section on great apes of the IUCN-SSC Primate Specialist Group; the Association of Indonesia Primatologyst (PERHAPPI); the Indonesia Orangutan Forum (FORINA); and the GRASP-UNEP Scientific Commission SE Asia Representative.
BALI, HEAD OFFICE (UBUD)
Founder and CEO – Drh. (Veterinarian), I. Gede Nyoman Bayu Wirayudha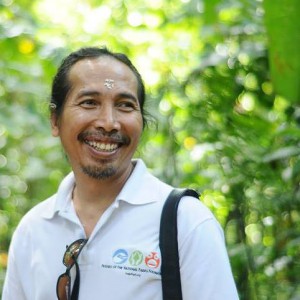 Bayu holds a degree in Veterinary Medicine from Udayana University, Bali. He is the founding director of FNPF, and holds other directorships including with Yayasan Bebali, which works with traditional cultural revitalisation, and previously with the Begawan Foundation, where he oversaw the program breeding the critically endangered Bali Starling (Leucopsar rothschildi) and their subsequent release by FNPF onto Nusa Penida.
In 2003 and in 2007 Dr Bayu was nominated for Indonesia's Kalpataru (Hero of the Earth) Award for his work with conservation. In 2007 the Bali Governor awarded him Environment Pioneer.
In addition to his NGO work, Dr. Bayu has extensive experience working closely with all levels of government and with the private sector. The quality of his work is evident in the successes FNPF has achieved, and in the trust placed in him and FNPF by organisations such as Humane Society International, the Gibbon Foundation, Boeing Aerospace, US Fish and Wildlife Service, and AusAID (the Australian government's international aid department). Dr. Bayu provides vital leadership and oversight to FNPF.
Assistant Director – Petrus I Made Damaianto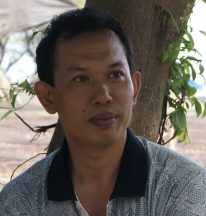 During 1988-1990 Petrus became a Catholic teacher at the elementary school and Junior high school in Singaraja Bali. After 10 years of experiences from 1993-2003 in hotel industry in Bali, then he continued to more focus in NGO. In 2004, Mr Damai became head of the foundation and a computer teacher at Asah Asih Asuh Foundation Buitan-Bali/International Humanity Foundation (IHF). In 2007, he became the Vice Chairman of the Foundation, Administrative Coordinator and Computer Technician (Computer Maintenance) in Metropoli Foundation Indonesia (YMID) – Amlapura – Bali that dedicated to Balinese Culture.
Project Manager – Drh. (Veterinarian) I Made Widana (also known as "Bombom")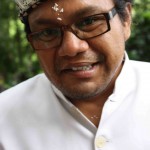 Bombom holds a degree in Veterinary Medicine from Udayana University, Bali. Starting with FNPF in 1998, he spent 2 years as a volunteer in Kalimantan assisting FNPF's Orangutan rehabilitation programme in Tanjung Puting National Park and teaching English to children from the nearby villages. In 2004 he became the on-site manager of FNPF's project on Nusa Penida. Besides working with FNPF, Bom Bom founded  the Genitri Foundation in 2009, an organisation  that focuses on conservation education, and assisted the Gaia Oasis Foundation to implement their conservation education, reforestation and community development programme in 2010. He is a member of the Indonesian Ornithology Union (2005), an organisation that was formed to advance the ornithology of Indonesia by promoting the study of all aspects of Indonesian birds.
Project Manager  Drh. (Veterinarian) I Made Sugiarta (also known as "Cakil")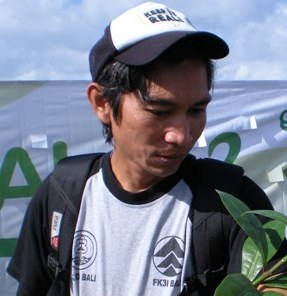 Cakil graduated in 1999 with a degree in Veterinary Medicine from Udayana University (Denpasar, Bali). He started his involvement with FNPF in 2000 as a Field Coordinator at Tanjung Puting National Park, Kalimantan (Borneo). For over 3 years he ran the orangutan rehabilitation programme, conducted the Sun Bear rehabilitation, started the Pesalat land rehabilitation & reforestation programme, and started the Pesalat conservation education programme. In 2004 Cakil coordinated a feasibility survey to determine the possibilty of Nusa Penida becoming a Bird Sanctuary. Between 2004 -2008 he became the Office Manager of Nusa Penida Bird Sanctuary Programme. In 2009, Cakil founded the Genitri Foundation, an organisation that focuses on conservation education. In 2010 he joined Bali Animal Welfare Association (BAWA) as a Veterinarian but also to bring an education programme to this organisation. Recently, he is the Veterinarian in charge at the Bali Zoo clinic.
KALIMANTAN (BORNEO)
Borneo Manager – Basuki Budi Santoso, S.Hut.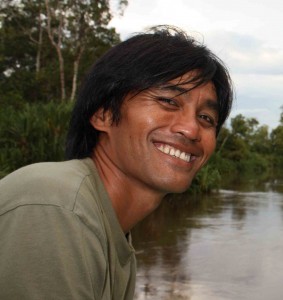 Basuki holds a degree in Environmental Science from 1999 Mulawarman University in Samarinda East Borneo. Basuki is a dedicated forester and conservationist. He heads FNPF's forest restoration projects in Kalimantan (Borneo) at Pesalat and Beguruh in the Tanjung Puting National Park, and in Lamandau Reserve. He has worked in forestry and community development through several institutions such as Inhutani Batu Ampar (East Borneo) , Long Bagun Ltd (East Borneo), Bangun Kayu Irian Ltd, (West Papua).
Basuki worked as a surveyor for several organisations, including: the Urge Batch II Project, assessing the impact of logging activity on sedimentation in Kahala and Enggelam rivers (East Borneo); the WWF Indonesia Project of surveying biodiversity after the fires in Kutai National Park, Muara Kaman protected forest, Batu Putih protected forest,  and  Wanariset Semboja (East Borneo); as a Marine Division Surveyor for Geo Services Ltd (East Borneo); and Field Officer Agriculture and Mapping for FORMACS Project CARE Indonesia.
For his high dedication to conservation work, in 2010 Basuki was awarded "Youth Environment Pioneer" by the Indonesian Youth National Committee Kota Waringin Baratt Central Borneo.
Coordinator Site Pesalat – Redansyah
Coordinator Site Padang Sembilan – Haderan
Coordinator finance – Rasit
Coordinator Site Beguruh – Arbain
Coordinator Site Lamandau – Samsu
Coordinator finance -Staff - Ibrahim
Staff – Abdulah
Staff – Aryadi
Staff – Kaspul
Staff – Topik
Staff – Andika
Staff – Hademansyah
BALI, NUSA PENIDA ISLAND
Staff – I Made Sinom
Staff – I Wayan Supradnya
Staff – Ni Kadek Astini
Staff – Gede Wata